SCLC Memphis President gave his all!
Remembering the life and legacy of Rev. Dr. Dwight R. Montgomery
Tony Jones | 9/14/2017, 12:35 p.m.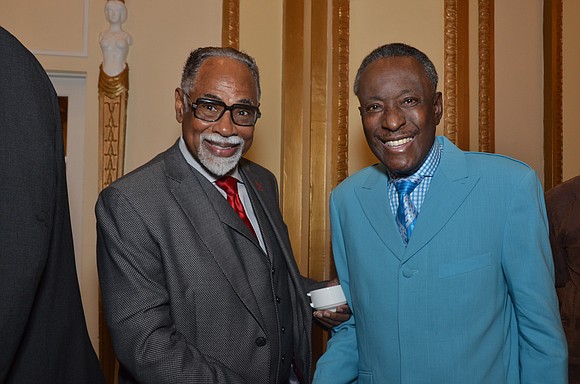 In some circles, the Rev. Dwight R. Montgomery's name was a synonym for "Fighter for Justice." The Southern Christian Leadership Conference Memphis Chapter President – and longtime pastor of Annesdale-Cherokee Missionary Baptist Church – died Tuesday. He was 67.
"A faithful man, preacher, pastor, theologian, 'Montgomerizer,' community activist, child of God and the list goes on," said the Rev. Dr. Charles E. Stanback, president of the Memphis Baptist Ministerial Association, in a written reflection. "He joined the Memphis Baptist Ministerial Association in 1982 and has been a fiery faithful member ever since. …Dwight Ray Montgomery, synonym for 'Fighter for justice.'"
In July, Rev. Montgomery and SCLC Memphis hosted the SCLC national convention. Dr. Charles Steele Jr., SCLC's national president/CEO, said Dr. Montgomery had been one of his best friends for the past 14-15 years.
"He was always there for me. There was never a doubting moment in my mind that when I called on him he wouldn't deliver," Steele said on Wednesday morning.
"I talked to him just this past Thursday within a few hours after he had surgery. I was in Cincinnati speaking at the National Baptist Convention and he got his assistant to get me on the phone. I said, 'Dr. Montgomery, I know God is blessing you and our organization but let's talk in a few days; you need to rest right now.'
"He said, 'Just let me tell you this – we are going to have a great commemoration and acknowledgement of Dr. King's birthday and his assassination in January and April of 2018. We are going to have a great program.' I said I know it Dr. Montgomery but get your rest right now. You don't need to worry about that right now."
Steele said Rev. Montgomery replied, "'Well, you are my president and I want you to know that I'm going to be there for you.' That was the last time we spoke and the last words he said to me."
Funeral arrangements had not been released at TSD press time.
Rev. Montgomery was serving as chairman of the Memphis Baptist Ministerial Association Crime Committee when he passed. The MBAA biography outlines his path from concerned student, community activist to pastor.

"He formed COBY, Coalition of Benevolent Youth, in 1974. COBY set the framework for many housing initiatives that still exist today. He became a board member of the Memphis Housing Authority serving in a volunteer capacity for 9 years and as chairman for 2 years. He was recognized as an Outstanding Black Young Man in America and was featured in Ebony Magazine."
Rev. Montgomery's career as pastor began at New Zion Missionary Baptist Church. He was chosen to lead Annesdale Cherokee MBC in 1985.

He was named SCLC Memphis president in 2004.
Rev. Montgomery's passion for social work came to light early when he formed the Coalition Of Benevolent Youth, operating out of a small office on College Street, not far from Stax Records. He attended Lane College, as did New Sardis Baptist Church pastor, the Rev. Dr. L. LaSimba M. Gray Jr.