Lausanne travels to Whitehaven and upends the Tigers
One winning streak ends and another rolls on after heavyweight match-up.
Terry Davis, Special to The New Tri-State Defender | 9/13/2017, 11:42 a.m.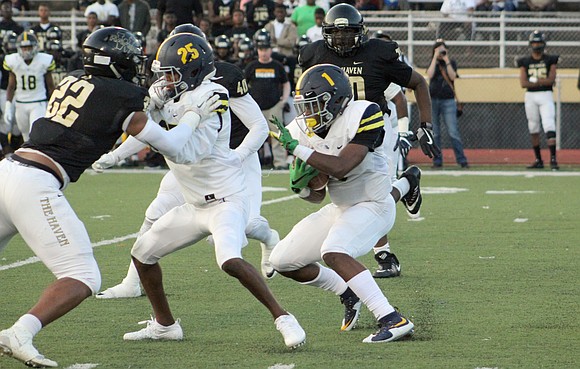 The Lausanne Lynx did something no other team has been able to do in quite a while – defeat the Whitehaven Tigers. The 14-7 victory last Friday night was the first time the Tigers had lost to a Shelby County team in nearly three years.

The loss snapped the Tigers' 18-game winning streak. The Lynx won the Tennessee Division 2-A state title last season and now have the longest winning streak in the county with 17 wins.
"I thought if we could get out to a good start in the first quarter and not be overwhelmed by the atmosphere, the band and the hype leading into the game, I felt like we could put ourselves in a position to win in the fourth quarter," Lynx head coach Kevin LoCastro said. "I was concerned about our depth, how deep they are and our kids running out of gas late in the game."
The first test came early. On the second play of the game, Lausanne's all-star running back Eric Gray Jr. fumbled on the Lynx 37-yard line. The Lausanne defense met the challenge and the Tigers could not take advantage of the turnover.
Senior running back Nyle Love put the Lynx on the scoreboard first in the second quarter. Down 7-0, it was the first time the Tigers had trailed in a game this season. The Lynx would that lead into halftime. With the defense of Lausanne giving the Tigers first-half trouble, the Lynx took the 7-0 lead into half time.
In the third quarter Tigers' running back Chris Witherspoon broke off a 71-yard touchdown run to tie the game.
"It was all heart," Whitehaven head coach Rodney Saulsberry said of Witherspoon's run. "That kid is all heart. He was playing with a little passion, but sometimes you have to relax and let things go. Sometimes you need a little adversity to make life wake you up."
The Lynx responded with a long drive that ended with a touchdown run by Gray to make it 14-7.
"These kids that are young guys competed in a high intensity game and showed a lot of poise," LoCastro said. "When Chris (Witherspoon) ripped off that long run, I did not see anyone on our sidelines pointing fingers nor had their head tucked between their legs. Everyone was ready to get back on the field to make some plays."
LoCastro expected a physical game and he was right.
"I told them it would be like a heavyweight fight. We (had) to match them punch for punch and blow for blow and I think we did that. A lot of the same characteristics that this football team possesses are a lot like what the team last year possessed."
Saulsberry said it was "a good football game," adding that, "You can't turn the ball over and you can't make mistakes."
This year's Tigers are a young team, he said. "They are not used to dealing with adversity. I tell them, you have to learn how to fight through tough games. You have to find a way to do things when times are tough. This was only a test for us and this will only make us better. …
"We never lose, we learn. I am not concerned about the result," Saulsberry said. "I am concerned about how we go from here. We had some chances to make some big plays. Our job is to not get too high with the highs or too low with the lows and stay even keel. We didn't do our best job at that. … We had our opportunities, because they kept fighting. I was happy with the effort. We just didn't finish some plays. With good teams you have to finish plays and make sure you seal the deal and don't give them a chance."
LoCastro said handling the big win is built into the process of playing at Lausanne.
"It has been a part of our process since we started this program five years ago. We talk about it all the time … not trying to get ahead of ourselves. We take every game one game at a time. Be concerned about your next opponent and not look forward."
NEXT: Whitehaven will play the East Mustangs Friday September 15 at the Fairground on Friday (Sept. 15). Lausanne will host Craigmont.