What it costs to give black mothers a second chance
Katherine Krueger, The Root | 5/23/2017, 9:37 a.m.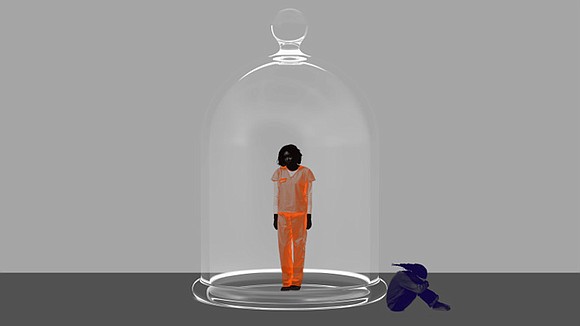 When Sheritha Scott found out about National Mama's Bailout Day, she had reason not to trust it.
She heard that local organizers were paying bail for mothers and caretakers in time for Mother's Day as part of a nationwide initiative, but she was worried that it was all a trap by the police. She feared she would turn herself in to make good on the warrants hanging over her head—all of them from traffic violations—only to be torn from her children.
"I've just been running for so long," Scott, a 28-year-old single mother of five, told Fusion.
The last time she was hauled into the Houston County city jail in Dothan, AL, a local cop had pulled her over before she even left a store parking lot. (The officer had pulled Scott's sister over just the day before in the same car.) Scott, who was charged with driving with a suspended license, had to call her mother to come pick up her young children, who were in the back seat.
Scott recounted being held in the city jail in Dothan, a town of around 70,000 not far from the Florida state line, for more than 10 days because she couldn't afford bail. Finally, her then-husband, who Scott says regularly abused her during their relationship, scraped together $800 in bail money so she could take care of the kids.
The idea of going to jail also brought back bad memories of being incarcerated for 280 days in 2013 and 2014 over misdemeanor traffic violations in Florida. That's when she lost custody of her kids, the oldest of whom is now seven. While she has since won back custody of two children, her mother maintains custody of the other three.
But Scott decided to ignore her fears and go to the jail in hopes of clearing her name. When she entered the jail on Sunday night and was taken into custody, Scott said she immediately started praying. After a few short hours, Pastor Kenneth Glasgow, whose organization The Ordinary People Society was a local partner for Bailout Day, showed up to pay a cash bond for her release, and she was free.
"Even just one night in that place would have broken me down," Scott said. "By getting this over with, this is me keeping my promise to my children that mommy will never go anywhere."
The vicious cycle goes something like this: you get a traffic ticket you can't pay. Failing to pay could mean additional late fees or even the doubling of the original fine, depending on where you live. Missing a court date or incurring another violation could lead to a warrant for your arrest.
In Alabama, the state can suspend your driver's license for a whole slew of reasons, including a failure to pay traffic tickets. Then you have a choice. Driving with a suspended license might allow you to keep your job for now, but you could easily wind up in jail. Being arrested can lead to losing custody of your children, your job, and your benefits. And even though you've lost your source of income, those unpaid traffic are still hanging over your head.