KAM'S KAPSULES
'Alien: Covenant' rekindles chest-bursting fun and horrors of 1979 original.
Kam Williams, Special to The New Tri-State Defender | 5/19/2017, 6 a.m.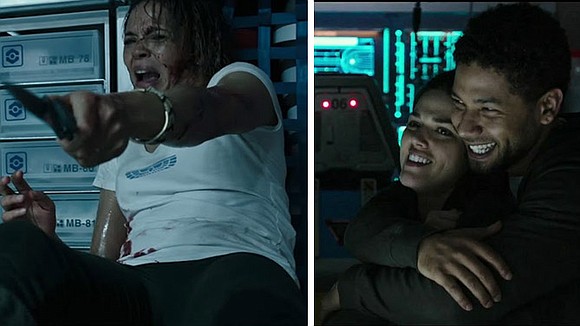 Devil's Domain (Unrated) Revenge horror flick about a victim (Madi Vodane) of cyber-bullying who makes a deal with the Devil to get even with her tormentors. Cast includes Michael Madsen, Linda Bella and Zack Kozlow.
Fight for Space (Unrated) Pro-NASA documentary advocating for a more ambitious U.S. space program. Featuring commentary by astronaut Jim Lovell, physicist Michio Kaku and Bill Nye, the Science Guy.
Legion of Brothers (Unrated) War on Terror documentary recounting the exploits of the Special Forces unit sent on a covert mission to Afghanistan to track down the Taliban and Al-Qaeda leaders behind the 9-11 attacks.

The Survivalist (Unrated) Post-apocalyptic thriller, set in the wake of the collapse of civilization due to the exhaustion of petroleum, about a nomad ()Martin McCann) whose tiny farm hidden deep in the woods is discovered by a couple of starving women (Mia Goth and Olwen Fouere). Featuring Andrew Simpson, Douglas Russell and Kieri Kennedy.

Wakefield (R for profanity and some sexuality) Midlife crisis drama about a burnt out attorney (Bryan Cranston) who hides in the attic from his family and the rest of the world after suffering a nervous breakdown. With Jennifer Garner, Beverly D'Angelo, Victoria Bruno, Pippa Bennett-Warner and Ellery Sprayberry.

The Woman Who Left (Unrated) "Hell hath no fury" thriller revolving around a recently-exonerated inmate (Charo Santos-Concio) who hatches a plan to exact revenge on her ex-lover (Michael De Mesa) after spending 30 years behind bars for a crime she didn't commit. Supporting cast includes Shamaine Centenera-Buencamino, John Lloyd Cruz and Mae Paner. (In Filipino with subtitles)