It's 'Holy Poetry' Time!
Local author opening poetry club for Christians.
Kelvin Cowans, Special to TSDMemphis.com | 5/19/2017, 10:48 a.m.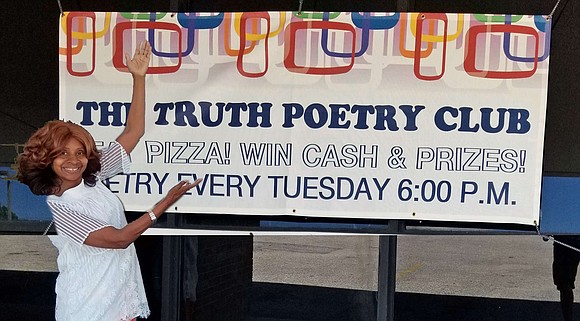 Ruth Henderson is determined to see Memphis become a finger-snapping community. She is hitching her aspiration to "I Love Tuesdays," which will debut as "the place to be for inspirational poetry" next week.
"Every Tuesday starting on May 23, "I Love Tuesday's" will be up and rolling," said Henderson, aka "Ruth Truth."
The venue will be The Truth Poetry Club at 2794 Coleman Rd.
Kelvin Cowans: How is this different from other poetry spots around Memphis?
Ruth Henderson: There are indeed a few great places that have poetry here, but our difference is that they are nightclubs, which just so happen to have poetry sessions. But we are a true poetry club and we are the first in America. That's what makes us so exciting. This is a place where Christians can finally call their own. They now have somewhere to go besides church and have good clean fun in the lord.
Take for instance a pastor. Well, he doesn't really have many places he can go and not be afraid of his members seeing him. But here he can come with his wife and enjoy a nice evening of inspirational poetry.
KC: How about the poets that want to come and share their material? What do they have to do to get involved?
RH: They can go to www.thetruthpoetryclub.com. This is where they can sign up. Also, I'm hiring gospel singers and musicians because I have to fill this place up.
KC: This is a huge building, like 8,000 square feet. What else do you have going on in here?
RH: On Tuesday night's we have "I Love Tuesdays," where we start by having Bible Trivia. The audience members who answer the questions correctly win cash of anywhere from $10 to $100 and prizes such as a copy of one of my books. Then there will also be church services of some kind and a school to be named.
KC: You've written 14 books. I was trying to calculate just where did you find the time to accomplish that. But most importantly, one of your books is titled "Good News in a Bad News World." Tell us about that one.
RH: Seven years ago, I had lived an up and down world; one where I ended up in a homeless shelter. I truly came to the end of myself. In that moment I cried out to God and said, "God, I'm tired of going my own way. I'm not going to make a move until you show me what you want me to do with my life." He spoke clearly and reminded me that he'd given me the gift of poetry back at the age of 16. Back then I would go around and recite poetry throughout the city of Detroit, Mich., which is where I was raised.
The problem is that I didn't see it as a calling or a gift. He put it in my spirit that he wanted to use me to restore poetry into his ministry in these last and evil days. That poetry is a gift from God that has been completely neglected by the church.