How ballet is energizing one Memphis school – and helped save it from closing
In the South Memphis neighborhood, ballet lessons offered through the nonprofit New Ballet Ensemble introduce students to the art of dance at a school with few resources for extracurricular activities
Caroline Bauman, Chalkbeat TN | 5/19/2017, 10:49 a.m.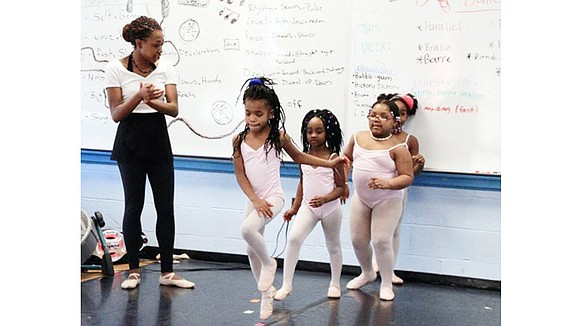 "There are computers for parents to use if they don't have internet at home," Smythe said. "I've seen parents drop their kids off, walk to the room and apply for jobs while grabbing a cup of coffee. There was no positive reason for parents to come to school before this, only if their students were sick or in trouble."
Building parent relationships have become key to New Ballet's mission at Dunbar, and Smythe wants to take the group's learnings to other Memphis schools. It's already helping with arts education in classrooms at Bartlett and Sherwood elementary schools, and Smythe wants to bring Dunbar-style ballet programs to secondary schools that now teach former Dunbar students at Treadwell and Sherwood middle and Melrose and Douglass high.
But that takes money.
New Ballet is heavily dependent on the National Endowment for the Arts, a federal agency that could experience huge cuts under President Donald Trump's administration. In addition to $15,000 in NEA funding, the group gets money for its school programs through the Tennessee Arts Commission, which also comes from NEA.
To remind those who hold the pursestrings about educational ballet programs like Dunbar's, Smythe recently joined other arts advocates to speak with lawmakers in Washington, D.C. Their message: The arts are more than just concert halls, expensive tickets and paintings that people don't understand. It's also about helping students to grow mentally, physically and academically.
For students like Briana, support for New Ballet would mean another year of free ballet lessons and after-school programming.
"I really look forward to performing," Briana said. "Learning to dance is really fun. But being able to show off how much I've learned to my mom? That's the best."
(Follow Caroline Bauman @carolinebmn. email: cbauman@chalkbeat.org.)