FRE$H FRUIT
Who the heck is Odd Wilson?
Kelvin Cowans, Special to The New Tri-State Defender | 5/19/2017, 10:49 a.m.
Memphis music producer Garrick Jordan takes it to another level with a website, an app and animation that may come off, well, a little odd.
Garrick Jordan: This idea has been brewing for a long time. I've just been trying to figure out where to go with the character. I've finally got the concept down and it's up and rolling.
Kelvin Cowans: Who is Odd Wilson?
GJ: He is a character who does music composing and directing. He's basically a character in real life. He has a deep passion for everything he's involved in and you will witness it in his animations and live shows.
KC: Who helped you put together this striking physical character?
GJ: I went to a graphic designer, Jabriel Woodall, and he did it exactly like I pitched it to him. Then I went over to the Memphis College of Art and put out some flyers asking for help to make the head of Odd Wilson. One of the teachers pointed me to a student, Patricia Williams, and her friend, Sharday Hawkins.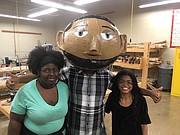 KC: So is Odd Wilson's character and music more like the "Adult Swim" channel or is it PG and for kids?
GJ: It could go both ways. But see I'm an artist that is transcending to other genres. It's not just a cartoon or music or movies but in essence all of those. Some on adult and others on kids' levels.
KC: What's the first thing we can expect from Odd Wilson?
GJ: Right now, Odd Wilson is about to release his EP dubbed, "Welcome to Oddville," which is going to be purely all instrumentals and a free download on the website. Next will be the event on July 14th, 7 p.m. at The Hi-Tone, where he will have his first official live show. He will have some music that he's DJ'ing and some songs. You know the funny thing is that Odd Wilson is generating a fan base from overseas. He has followers from London and as well from Scotland. His popularity is growing pretty fast.
(For more info: wheresoddwilson.com; follow @whereodd; Instagram: whereoddwilson; Snapchatt: whereoddwilson.)
(Kelvin Cowans can be reached at kelvincowans@hotmail.com.)