"Amandla" means POWER!
Amandla Stenberg, star of "Everything, Everything" sits down with Kam Williams.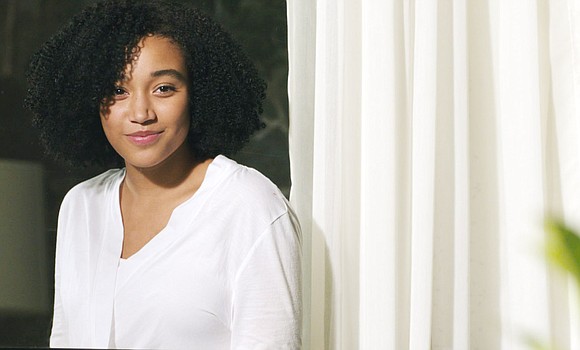 AS: The documentary, right? Yes, I have. My mom put a poster from the film up on my wall when I was little.
KW: What interested you in Everything, Everything?
AS: First of all, that they were considering casting someone like me as Maddy grabbed my attention because most movie romances aren't very diverse. Usually, adaptations of young adult romance novels feature white leads. So, when they reached out to me with the script, I was struck by the fact that it was based on a book written by a black woman [Nicola Yoon] who specifically created a biracial protagonist. That was something I hadn't seen before. It felt fresh to me that they were making a fairly corporate movie with a black female as the lead that would be widely marketed and distributed And I also thought it was important when I considered how many people would get to see this girl with natural hair carry the film.
KW: Do you feel under any pressure for this film to succeed, so that this sort of colorblind casting continues?
AS: I don't feel any pressure. I'm confident the film will do well. And whether or not it succeeds isn't necessarily dependent on me. That's not my responsibility. But I do feel proud to be a part of it, regardless. besides, I don't really think of a film's success in monetary terms but by how it moves people. And I can already tell that black teenage girls are really excited to see themselves in a movie like this.
KW: Had you read the novel, before learning about this project?
AS: No, I hadn't read the book when I got the script. But as soon as I learned what it was about, I checked it out.
KW: What was it like working with a black, female director in Stella Meghie?
AS: It was really cool. Very special. I think we had a kind of unspoken, and sometimes spoken, mutual understanding of what it meant for us to be creating in that large, corporate environment together. It was sort of like, "We tricked them. Don't they realize what we're making?" We joked around that we were scamming them with our diverse content.
KW: And how was it working opposite your co-star, Nick Robinson?
AS: He's a fantastic guy. Very grounded and real. We were both kind of relieved when we first met each other that were on the same page not only in terms of acting but as people.
KW: How would you describe the movie's message?
AS: I think the movie's fantastical, not really based in reality. It's more of a fable or a large metaphor about breaking free of limitations that you place on yourself or that others may place on you. And it's about conquering your fears and not letting anything get in the way of living your life more fully.
KW: And what was it like working with Anika Noni Rose, who played your mother?
AS: Anika's fantastic as an actress and as an individual. She has so much conviction, heart and elegance. She's such a a cool person and a strong lady. Yeah.