NFL star authors a playbook for fatherhood
Baltimore Ravens tight end Benjamin Watson is lending a helping hand to both veteran and rookie fathers in his latest book, "The New Dad's Playbook: Gearing Up for the Biggest Game of Your Life."
Maya A. Jones, The Undefeated | 5/13/2017, 11:34 a.m.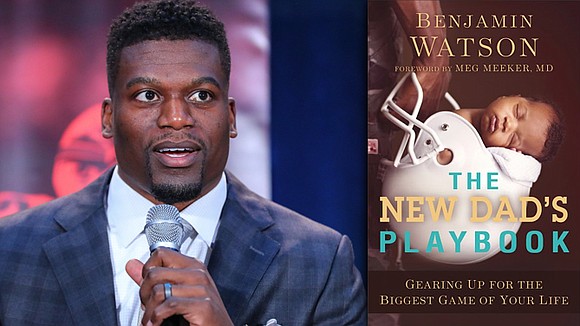 Although Watson believes he has a better grasp of marriage and fatherhood now, that wasn't always the case for the NFL veteran early in his career. He and Kirsten were college sweethearts who met at the University of Georgia and got married in 2005, shortly after his rookie season with the New England Patriots.
"I was a basket case," Watson said. "There was some other events that happened and some stuff I had to deal with internally with my identity: performance and perfectionism and a lot of those things. I didn't do a good job of [balancing] early in my marriage or as a father. If I struggled at work, I was hard to be around. If I had a great day, I felt good about myself."
One day, then-teammate and current ESPN NFL analyst Tedy Bruschi offered words of wisdom that Watson still carries with him today.
"One thing that Tedy told me — I didn't have kids at the time — he said, 'Benjamin, when you come home, you are daddy, you are husband,' " Watson said. " 'Whatever happened at work has to stay at work. Whether you had a good day or [Bill] Belichick fussed at you — which happened a lot — you have to leave it at work.'
"That's what I tried to exercise over this last half of my career. When I get home, that's who I am. I'm daddy and I'm husband."
Watson says this concept didn't really click until his fifth year of marriage, but the process has allowed him to open his eyes and be a better protector and provider for his wife, three daughters and two sons. Now entering his 12th year of marriage and 14th season in the league, Watson is using his experiences and story in hopes of encouraging all fathers on their individual journeys.
"Whether we had two parents or not in the home, we all come from a flawed world, so we're going to be damaged in certain ways," Watson said. "The hope of this book is to demonstrate them to know how to be good fathers, but to also point them to a heavenly father that can fill that void that their earthly father sometimes leaves. Our heavenly father, he shows us what love is. He shows us what hope is. He shows us how to be sacrificial in a relationship. He shows us how to care for the mother of our children the way he cares for us.
"This book is for everybody, even more importantly for the guys who didn't have fathers; they have a tremendous opportunity to change the course. It just takes one."