NFL star authors a playbook for fatherhood
Baltimore Ravens tight end Benjamin Watson is lending a helping hand to both veteran and rookie fathers in his latest book, "The New Dad's Playbook: Gearing Up for the Biggest Game of Your Life."
Maya A. Jones, The Undefeated | 5/13/2017, 11:34 a.m.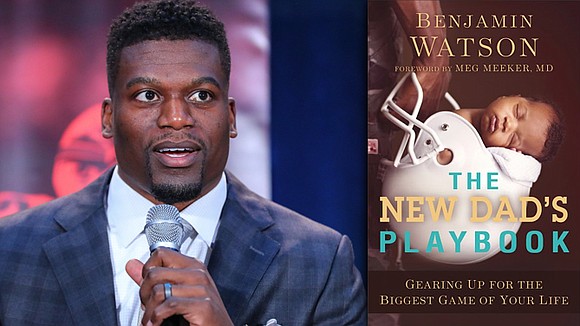 NOTE: This story first appeared on ESPN's "The Undefeated." Baltimore Ravens tight end Benjamin Watson is lending a helping hand to both veteran and rookie fathers in his latest book, "The New Dad's Playbook: Gearing Up for the Biggest Game of Your Life."
The 36-year-old father of five knows the emotions and anxiety-inducing moments that bringing a new life into the world can create. But not to worry, dads. Watson covers every aspect from conception to delivery, doctor's appointments and baby showers, and breaks down even the most difficult moments of fatherhood in a way sports fans can appreciate: with football terminology.
"You go from preseason to regular season to playoffs to the Super Bowl, which is the birth, to the postgame, when the baby comes home, and those few weeks afterwards where everybody wants to come by and see the baby," Watson said. "The preseason is conception into the first trimester, and it kind of goes along like that. It's encouraging men [to know] they can be good dads, that they have what it takes. The biggest thing that a man wants to know is, do I have what it takes? We need affirmation. Whether they got that from a father figure or not, I will encourage them that they do have what it takes."
The idea for the book came from Watson's wife, Kirsten, who encouraged her husband to begin documenting his fatherhood journey in order to help others who may be facing the same obstacles. While talking to other fathers and expectant fathers, Watson learned that many concerns they had aren't necessarily being addressed, such as female anatomy and pregnancy terms generally used during visits to the obstetrician, as well as their longing to be more involved in the pregnancy process but not knowing exactly how.
"The overwhelming feeling that I have is that a lot of men feel it's not their place to be involved in certain things because that's what they're being told," Watson said. "And my contention is that you do have a role in pregnancy. You do have a role while the child is here and before the child gets here. You do have a role in creating a relationship with the mother that would most benefit the child when the child gets here because, whether you like it or not, you're a dad already. The baby just hasn't come out yet, but you're already a father. I do feel like many of them want to be involved but don't quite know how to navigate it. And I also feel like some women don't feel supported the way they need to be."
Different chapters of the book are dedicated to what Watson calls the "technical side" of birth, including the three trimesters, the different number of births, and methods of delivery and a list of commonly used terms that fathers will hear throughout the pregnancy. Watson also covers a call to manhood, parenting and fathering, which he believes every man should be able to identify with. The book also includes personal anecdotes and funny tidbits from Watson's experiences, as well as how to navigate life with a growing family.