Rev. Jackson joins local push for more city spending with black businesses
The Rev. Jesse Jackson didn't throw a dart on map, hit Memphis and then parachute in to rescue African-American-owned businesses from the grips of an ongoing disparity in the awarding of city contract
Montee Lopez, Special to The New Tri-State Defender | 5/11/2017, 11:41 a.m.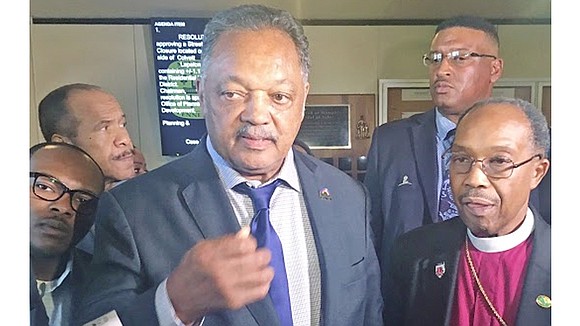 The Rev. Jesse Jackson didn't throw a dart on map, hit Memphis and then parachute in to rescue African-American-owned businesses from the grips of an ongoing disparity in the awarding of city contracts.
As far-fetched as such a scenario sounds, there was a noticeable amount of angst, uncertainty and disagreement about just what the national president and founder of the Rainbow Push Coalition was doing – and did – during his presence in Memphis on Monday and Tuesday.
For the record, the iconic civil rights figure was here to hook up with the First Episcopal District of the Christian Methodist Episcopal Church (CME), with Presiding Prelate Bishop Henry M. Williamson Sr. out front with the invitation. He also attended a Rainbow PUSH Coalition board meeting. And at Whitehaven High School, he helped unveil an education partnership that links the high school and the Rainbow Push Coalition and features a focus on engineering.
Representing Williamson and a "concerned group of African-American religious, business and community leaders," Jackson was in on a closed-door meeting Tuesday with Mayor Jim Strickland and later addressed the City Council. The group wants to see more minority business contracts with the City of Memphis.
Jackson raised the profile on what has been an ongoing push from several local quarters, adding the specter of mass public action, if the pace of change didn't pick up sooner rather than later.
"African-Americans for too long have been locked out of the process of development," Jackson said after addressing the City Council.
In Memphis, where 65 percent of the population is African Americans, the call is for 50 percent of the city's business contracts to be minority owned.
After Jackson and the group met with Strickland in a session that was brief, private and closed to the media and the public, Jackson told The New Tri-State Defender that the mayor recognized the contract disparity and wanted to close the gap.
"The mayor recognizes we need a plan from him," Jackson said, introducing the element of 30 days.
"Within 30 days we'll be planning marches or planning reconciliation," said Jackson. "Forty-nine years after Dr. King/s assassination, disparity in Memphis is woefully out of line, substantial, and painful, and it's not fair."
According to Strickland's office, spending on minority business contracts increased from 13 percent to 20 percent in March. And as for a plan in 30 days, that was news to a spokesman for Strickland.
"Rev. Jackson never made such a request in our private meeting before he met with the media," Ursula Madden, chief communications officer said. "Mayor Strickland has already increased minority business contracting – up 60 percent in just his first 15 months in office – and is committed to continuing to increase that number."
When Strickland took office, the share of city spending that went to Minority and Women Business Enterprises (MWBEs) was 12.63 percent. As of March 2017, the latest month for which data has been compiled, the share of city spending that went to MWBEs was 20.24 percent.