READER'S CORNER
Marcus Haynes' book is out of this world.
Phyllis R. Dixon, Special to The New Tri-State Defender | 5/11/2017, 11:31 a.m.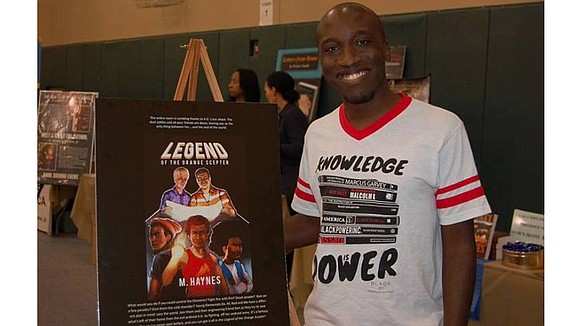 by Phyllis R. Dixon
Special to The New Tri-State Defender
Pulitzer Prize winning author Toni Morrison has said, "If there's a book you really want to read, but it hasn't been written yet, then you must write it."
Marcus Haynes, a young man from Memphis has done just that. His book, "The Legend of the Orange Scepter," is a story about teens with superpowers who must save the world.
Sounds like a common cartoon and comic book plot. What makes Marcus' book noteworthy is that the teens with superpowers are black.
Marcus is following in the footsteps of others who dared to imagine and create their own worlds. Martin Delaney is credited as the first African-American science fiction writer. Known primarily as an abolitionist, Delaney was the first black major in the Civil War. Most of his writing was political and he co-founded the North Star newspaper with the legendary Frederick Douglass.
Delaney also wrote a novel titled "Blake or The Huts of America." It's about an escaped slave, Henry Blake, who travels across the United States, to Canada, Africa and Cuba on a mission to free and unite black populations by any means necessary.
The most successful African-American science fiction author is Octavia Butler. Her novel, "Kindred," will grab your attention and really make you think. The main character is transported from the twentieth century back to a Maryland plantation. Think of it as "Twelve Years A Slave" to the tenth power.

When I was in school, I knew this category as science fiction. The correct name is speculative fiction, which includes science fiction, fantasy, horror and alternative history. Subjects cover zombies, vampires, aliens, time travel, superheroes and more. Black writers are adding their voice to this genre (yes, there are black vampires) and Marcus Haynes is one of them.

Born in Memphis, Marcus' family moved to Greenville, Miss. when he was a child and he still has grandparents and other relatives in this area. He graduated from Alcorn State in 2012 and teaches at Clark Atlanta University in Atlanta. He writes under the name of M. Haynes and I had the chance to talk to him about his career.
Phyllis Dixon: Tell me about your book. What is the significance of the title?
Marcus Haynes: "The Legend of the Orange Scepter" introduces four teens known as the Elementals. They each have a different super power ranging from fire to ice to electricity. They have to band together to save the world from different threats. It's a story of good vs. evil, with lots of action that takes the reader on twists and turns. The "orange scepter" is a weapon that has the power to control the world. This is the first installment; the next one comes out next year.
PD: What age group is your book targeted to?
MH: Primarily teens and young adults, but my story will also appeal to adults.
PD: How did you decide on a writing career?
MH: Growing up, I enjoyed Harry Potter and Animorphs books, and shows like the "Power Rangers" and "Dragon Ball Z." But I wanted to see people that looked like me as the main character. When I was nine, I wrote my own series, stapled copies and sold them to my classmates. I guess that was the beginning of my publishing career, and led to "The Legend of the Orange Scepter."
PD: You sound like you were a smart kid. Unfortunately, sometimes smart black boys face a lot of negative peer pressure. How did you handle this?
MH: My parents and teachers were very encouraging. I was called a nerd, but I hung out with other so-called nerds and it didn't bother me. I had some difficulties in my teens, but I don't think it was any more than anyone else.
PD: How can we encourage young people to read?
MH: I went to majority black schools from elementary through graduating from a HBCU. I was exposed to books by and about black people and appreciate my teachers making the effort to share those books with us. I have students that have never read books by a black author. Those stories build self-esteem in young black children and tolerance in others. We must also provide books with stories that interest young people and encourage reading for pleasure. My books help fill that niche.
(To follow Marcus' career {and buy his book}, visit www.mhaynes.org. You can also get his book at local bookstores. For more about speculative fiction, check out www.blacksciencefictionsociety.com or www.blacksci-fi.com.)