PA$$ IT ON!
Can life insurance really create $50 BILLION in black wealth?
Stacy M. Brown, NNPA Newswire | 5/11/2017, 11:40 a.m.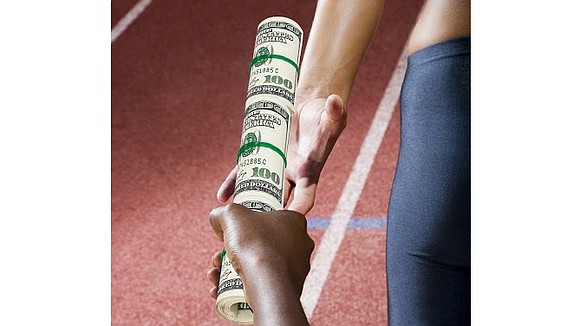 "So, it made me think about valuing my life. If someone got on the bus and was acting up, it taught me to move to the other side, for example," he said. "You tend to take better care of yourself, your children and your family and make better decisions, when you know you're worth a million dollars or more."
Other races, particularly whites, inherit their wealth, most through life insurance payouts, he said.
"You really can't work your way to wealth, you have to invest your earnings somewhere," said Mitchell. "It's time to consider tools like life insurance, as well as, looking at places where we can find money to invest."
Mitchell continued: "We could empower ourselves, and send more kids to school, create endowments, lessen crime and create more home ownership, collectively."
Buying life insurance isn't a government handout, or someone else doing for the community, Mitchell said.
"It's us, getting ourselves together with what we have," explained Mitchell. "To teach our children better, to act better ourselves, and to use these tools that are readily available that have been underleveraged in our community, so that we can raise expectations and create a new legacy for generations to come."
Quite simply, life insurance isn't a lottery ticket, Mitchell stressed.
"We can insure our parents, ourselves and our children to build this within our own families. By getting our mindset and spending habits right, we can start setting up college savings plans and down payments for homes like others," he said.
Mitchell explained: "If you had inherited $250,000 from big momma, would it have helped you put aside your nest egg, put a down payment on a home or have startup capital for a business?"
Already, after just six years, the plan is nearing its goal.
In 2016 alone, New York Life paid out $5 billion in death claims, Mitchell said.
African-American agents at the company handled more than $100 million in claims from Black Americans.
"The National Newspaper Publishers Association (NNPA) forthrightly salutes New York Life and Eugene Mitchell for this transformative initiative to undergird the building of wealth for Black families and communities," said Dr. Benjamin F. Chavis Jr., the president and CEO of the NNPA.
Mitchell and others, including New York Life agents, plan to celebrate reaching the $50 billion milestone by taking a portrait on the steps of the U.S. Capitol in August.
"The $50 billion is just a starting point," said Mitchell. "It could be used on top of the trillion dollars of earned income that Black people already have."
(Stacy M. Brown is a NNPA Newswire Contributor.)