HOPSON'S Choice
'As long as I am motivated and have support, I would love to be here.'
TSD Newsroom | 5/11/2017, 11:41 a.m.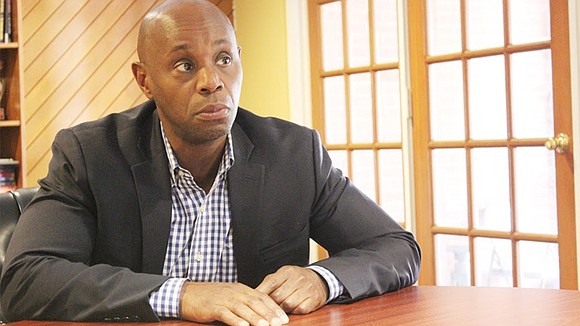 Shelby County Schools Supt. Dorsey E. Hopson has already exceeded the norm in terms of years on the job. Statistics show that the average length of stay for superintendents of large urban school districts is three years.
Hopson's current contract is a two-year extension of the agreement that made him the first person to head the district that merged with the old Memphis City Schools.It expires in June 2018. Later this month, SCS board members will vote on whether to sign him up for another two years.
Does Hopson want the job? That's the first question he fielded on Wednesday afternoon during a Q&A session with The New Tri-State Defender Publisher Bernal E. Smith II and Executive Editor Karanja A. Ajanaku.
"The job is really so much more than a job to me because I am from Memphis," said Hopson, who became a superintendent in his hometown after returning from Atlanta and Clayton County in 2008 to serve as general counsel for the old Memphis City Schools district. He was 35.
"I think that we have made tremendous progress. Sometimes it is easy to forget that four years ago we were in the middle of the biggest (school districts) merger in U.S. history. The question was whether the schools would even open.
"Then you couple that with the de-merger a year after. Despite that, we were a level 5 …the highest rate of growth for three years in a row, improved every year on the old TCAP test. We doubled the number of pre-K classes we have. We've expanded our i-Zone, we've created a Whitehaven empowerment zone and just have made tremendous progress."
Still, Hopson said, there is a lot of work to do.
"I say that because at the end of the day, as honored as I have been to be in this role and as excited as I am to be in this role, it just really has to come down to what is best for the community. What does the community want?"
With that question in mind, Hopson has planted himself in numerous informal settings with different stakeholders to get feedback on the work done so far.
What's he hearing?
"All positive," he said. "Obviously, there is always room for growth. The consensus has been a good job but that we have a long way to go. And I agree with that."
As long as the community sentiment is positive and the board wants him to remain, Hopson said, "I'm certainly excited about the prospect of continuing on four more years."
Familiar with the three-year average stay for superintendents in urban districts, Hopson talked about why that happens – community shifts and such – and said, "That's probably why it is hard for urban districts to get traction.
"As soon as you get on a path that everybody can buy into, you have a change in leadership. You really have to start all over again. If I'm not here, I can certainly say the district is in much better shape than four years ago."