CME-led push surfaces to boost African-American-owned businesses
Rev. Jesse Jackson to address City Council; Community Wide Rally set for Greenwood CME Church.
Tony Jones, Special to The New Tri-State Defender | 5/9/2017, 10:58 a.m.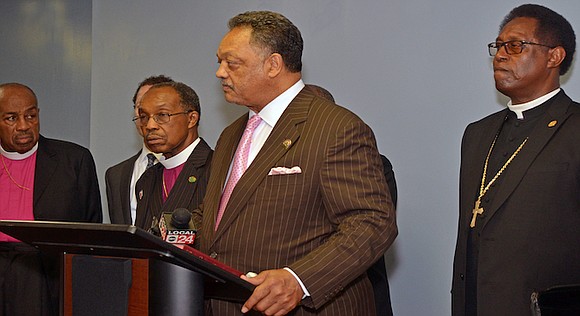 Representing a "concerned group of African-American religious, business and community leaders," the Rev. Jesse Jackson will pitch the need for more spending with African-American-owned businesses during an appearance Tuesday afternoon before the Memphis City Council.
Jackson, the national president and founder of the Rainbow Push Coalition, is expected to lay out guidelines for what is being described as "a successful negotiation process with the City of Memphis, its City Council and Mayor Jim Strickland."
The address to the City Council is part of a two-day agenda arranged by the First Episcopal District of the Christian Methodist Episcopal Church (CME). It began with a prayer breakfast Monday morning at the Greater Tabernacle MBC, with a worship service and community wide rally is set for 7 Tuesday night at Greenwood CME Church at 3311 Kimball Ave.
"We want all of our congregations to come fill up the City Council to send the message to the council and the mayor," Bishop Henry M. Williamson Sr., presiding prelate of the First Episcopal District of the Christian Methodist Episcopal Church, told The New Tri-State Defender.
"Let us work together to build a better city. The underlying theme is to build bridges of understanding and cooperation to increase African-American businesses and contracting services in the city, county and state, instead of walls of hatred and confusion."
Economics is the key, he said.
"We want the public to be aware of the need to eradicate poverty. That was Dr. Martin Luther King's unfinished agenda, and the best way to do that is to increase spending with African-American businesses with the city, county, state and federal government. I think black and white people, state, county and national legislators are realizing that it is much more economically productive to educate and employ taxpaying citizens who receive a livable wage to buy their own homes, have health benefits and raise children and get them to college than to leave them ignorant and incarcerated."
The CME church brought Jackson here last month to kick off a $3 million fundraising drive for renovation of historic Collins Chapel Connectional Hospital building at 409 Ayers St. When complete, the facility will open its doors as the Collins Chapel Health and Rehabilitation Center.

"We are inviting individuals, churches, social (groups) and fraternities and sororities to bring their tax deductible donations to support this tremendous health care facility that will be owned and operated by the church for all people now, black, white, brown and yellow," Williamson said. "It will be built with black contractors and subcontractors, and we are very proud of that. It continues Dr. King's agenda of economic recovery."
Jackson was scheduled to tour the renovation site on Tuesday morning.
"Health care is the focus, improved educational institutions for our children, and improving facilities and benefits for our teachers is the agenda., and universal health care," Williamson said.
"Our four civil rights organizations, along with our nine major black denominations, should band together to make this public policy in the years to come."
"Poverty is a sin in the richest nation in the world," Williamson said.
Looking ahead, Williamson said the watchwords for the future must include "fair, just and equitable." That involves "providing meaningful employment and training for those that need jobs, and to take care of children and the elderly to receive resources from the public and private sector through our community organizations to sustain a high quality of life."
On Monday night, 25 members of the Business Contracting Consortium met with Williamson, Jackson and others for a "planning session." The purpose was to "develop a plan to convince, persuade, or pressure the City, County, State, the private sector and churches to spend with African Americans." During the meeting, the BCC submitted its view of the present condition and solutions.