LaVar Ball's madness has a method
Despite what people say about his big mouth, his plan for Lonzo, LiAngelo and LaMelo is working.
Chris Palmer, The Undefeated | 5/6/2017, 8:33 a.m.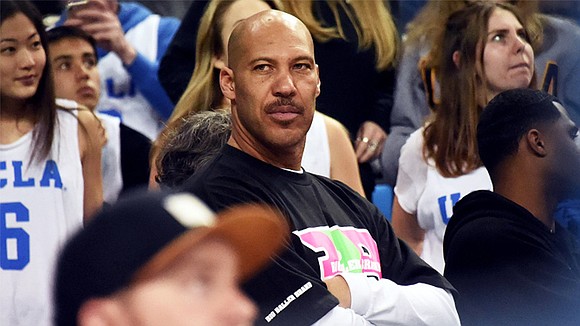 A moment later: "I didn't think you were gonna get up like that," chuckles LaVar about a dunk he had the night before. "Get 'em, Gelo." It draws a faint smile from LiAngelo, who saunters up to the quiet of his room.
True to form, LaVar was right about the eggs. When told so, he tilts his head back and slightly to the right, purses his lips and flashes a knowing smirk.
"Have I ever been wrong?"
THE PLAN HAS BEEN 20 YEARS IN THE MAKING
It only took basketball's latest phenomenon — a hypercompetitive father and his three prodigy sons, 20 years to become an overnight sensation. From the moment he chose his wife in college, supposedly because of her "length, height and breeding hips" when he saw her walking down the hallway after class to Lonzo's star turn in the NCAA tournament, each step to glory has been carefully charted and planned by the outspoken patriarch.
In recent months, the Ball family has taken up residence virtually everywhere — from social media feeds to the forefront of the basketball world's collective conscious. Think pieces on Lonzo's funky jump shot. LaVar's viral proclamations about his sons' unique brand of genius. Backyard Snapchat high-jinks. The self-conscious and self-generated buzz surrounding the Balls has elevated them to a level of basketball ubiquitousness unheard of even in the social media age.
Who Lonzo's girlfriend? Does Melo have Snapchat? When does LiAngelo get his braces off? Where do they hangout? Does anyone from Chino have class with them? They can rap too??
Lonzo, 19, is the stoic, easygoing, likely top two pick in June's NBA draft and the face of a franchise in waiting. His transcendent ability has morphed UCLA from a sub .500 team into a legit Final Four contender, sparking comparisons to Jason Kidd and Magic Johnson. The silky smooth, 6-6 pass-first setup man has draft prognosticators, general managers and the Twitter rabble falling over themselves to proclaim him The Next Big Thing.
"He's got an unselfishness that's contagious," said UCLA assistant coach Ed Shilling. "He makes everyone want to pass the ball. He does it in such a way that if you take a selfish shot, you really stand out."
LiAngelo, 18, a 6-6 soft-spoken shooting guard in a tight end's body, possesses a quick trigger, excellent footwork and brutish finesse. He's registered five games of 50 or more this season including a 72-point performance in December 2016 and heads to UCLA in the fall.
"There's nobody who can really guard him," said teammate Eli Scott. "He's too strong, too skilled, too good."
LaMelo, 15, inquisitive, playful, who committed to UCLA before ever playing a high school game, set the basketball world ablaze in February by scoring 92 points in a single game, including 41 in the last eight minutes, making him arguably the most famous high school basketball player in the country. Doctors say he could grow another four inches, which has LaVar imagining a 6-7 Stephen Curry with an unlimited catalog of dribble moves and legitimate range to 40 feet.