LaVar Ball's madness has a method
Despite what people say about his big mouth, his plan for Lonzo, LiAngelo and LaMelo is working.
Chris Palmer, The Undefeated | 5/6/2017, 8:33 a.m.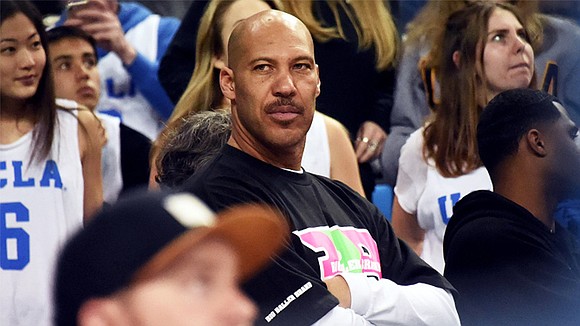 LaVar Ball opens the double-wide refrigerator and removes two dozen eggs, stacks of sausages, two tubes of frozen cinnamon rolls, a gallon of orange juice and 12 Kraft cheese singles. Soon, the sausage rounds are sizzling on the left back burner as he applies icing to the rolls on an adjacent counter. Then he's got three burners, an oven and a mixing bowl going at once. He peels that clear plastic from each slice of cheese and painstakingly rips each square into small pieces and adds them to the eggs. He carefully tilts the bowl and beats the eggs with a whisk until they're ready for the frying pan.
After a quick glance over his shoulder to check the rolls, he carefully scoops the sausages with a spatula into two brown paper bags, which quickly become stained with grease as he shakes them.
"Wait till you taste these eggs," he booms with delight. "You ain't never had eggs like this!"
LaMelo, the 15-year-old prodigy and youngest of LaVar's three sons, wanders into the kitchen wearing a T-shirt that reads "Talk Is Cheap" and scopes the spread before exiting without a word.
"You hungry, Monster Man?" asks LaVar in his customary outside voice.
The night before, the pipe cleaner-limbed wunderkind with area code range, notched a 17-point, 15-assist, 10-rebound triple-double in the first round of the California state playoffs. It isn't even 9:30 a.m. and he has already put up 100 shots at the park down the street.
The boys are always hungry. Breakfast is usually an event. Grocery bills by the thousands.
"These eggs! I'm telling you!" LaVar exclaims. "When have I ever been wrong?"
He's got a point.
The elder Ball has become one of the most visible figures in basketball due to his tireless promotion of his talented brood and his seemingly magnetic attraction to any microphone or camera pointed his way.
The audacious absurdity of his decades-long plan to get all three of his three boys to the NBA is exceeded only by the increasingly bold, eye-roll-inducing boasts that have made him a one-man 24-hour news cycle. Yet his boys keep sailing over the bar he set outlandishly high, checking the boxes and stuffing their resumes with head-scratching feats. There's the mythical high school national championship, the systematic destruction of state scoring records, a pending top selection in the NBA draft, which all lend legitimacy to LaVar's madness.
His need for control and organization is evident even with his back to the kitchen traffic and his arms wrist-deep in suds. LiAngelo, the UCLA-committed, high-scoring middle child, wanders into the kitchen. LaVar looks over his right shoulder as he does the dishes and nods at the kitchen trash can, which is brimming with refuse after breakfast.
"That's you," he says to the senior, who dutifully empties the trash into a large container in the garage and replaces the bin with a fresh white kitchen trash bag.
When LiAngelo returns to straighten up the kitchen, LaVar puts his right hand on the back of his neck and whispers in his ear. A small moment between father and son when there are no microphones or cameras trained on them.