CME salutes 'Sister Hayes'
2016 National Teacher of the Year.
Tony Jones, Special to The New Tri-State Defender | 5/5/2017, 11:50 a.m.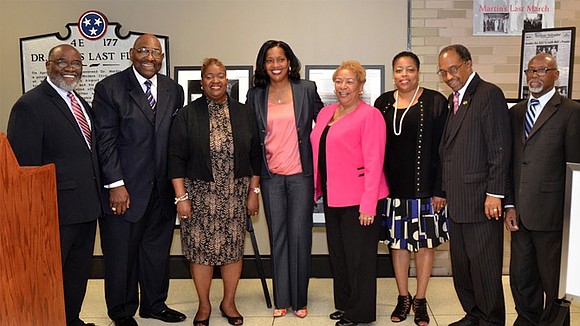 A very planned thing happened to Jahana Hayes on the way to Lane College in Jackson, Tenn. last Friday.
She stepped into a Memphis International Airport nook decorated with civil rights era memorabilia from the Withers Museum & Gallery and encountered the embrace of the First Episcopal District of the Christian Methodist Episcopal Church.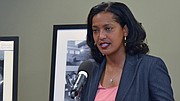 Hayes, the 2016 National Teacher of the Year, touched down in Memphis en route to Lane, where she delivered the 2017 Spring Commencement address the next day. The CME's First Episcopal District is based in Memphis and Presiding Prelate Bishop Henry M. Williamson Sr. and his associates deemed it appropriate to have a high-profile welcome of Hayes, a CME church member in her hometown of Waterbury, CT, where she teaches at her childhood alma mater, Kennedy High School.
"An educated mind can rise to the top and serve in all parts of the world, that is why sister Hayes is so important to us," Williamson said. "We must expand our support for teachers and education to city, county, state, and yes, Washington, DC. We must do more."
The Council of Chief State School Officers presents the Teacher of the Year Award annually. Escorted by her husband, Hayes has traveled to seven countries and 35 states (and visited with then President Barack Obama) as part of her National Teacher of the Year designation.
"I should have started my tour in Memphis," gushed Hayes, clearly moved by the reception, which came on a day that the City of Memphis and Shelby County Government had named in her honor. "I can't wait to call my pastor."
The memorabilia accenting the reception included images that reflect the integration of Memphis City Schools by the "Memphis 13" students in 1961. Hayes was presented with an array of civic gifts, including a letter of congratulations (on her award) from Shelby County Schools Supt. Dorsey Hopson.
Hayes' rise to education notoriety has been a steep climb. She became a teenage mother in a neighborhood described as riddled with hardcore ghetto problems and leaned heavily upon church and community support.
"In my approach to teaching I engage churches and the community because that was done for me," Hayes said.
"That's what I was taught and it was done for me. We took care of each other. We stood in intercession. We spoke for kids who didn't have voices. We helped parents who didn't know how to help themselves. Somewhere along the way we've lost that. I am grounded in my faith, and I remember all of the people that did that for me."
While she understands that some are promoting charter schools as a question of choice, Hayes posed a question: "How about every school being the best it can be? This idea of taking a small group of kids out and elevating them marginalizes all of the students who show up every day and want to be better. They wish they had someone to advocate on their behalf and they have no one.
"Our responsibility to public education in this country is to ensure that every child has equitable access, not just a small few in a small area."
Over her 13-year education career, Hayes has taught world history, roots of American citizenship, U.S. history, civics and geography and African-American history. She knows that obstacles such as economic disparity and other negative social influences sap many children of their early childhood enthusiasm for going to school. And she knows that teachers are called upon to stand in the gap.
"It's our job as teachers, as the adults, to believe in them even when they don't believe in themselves because eventually the light comes on and they catch up," Hayes said. "But too often people give up on kids when they need them the most. I just reject that notion. Someone did it for me. That has really shaped me as a teacher."