Charles Barkley's new TNT series looks at race in America
The four episodes feature uncomfortable conversations with a white supremacist and the families of victims of police violence
Maya A. Jones, The Undefeated | 5/5/2017, 11:49 a.m.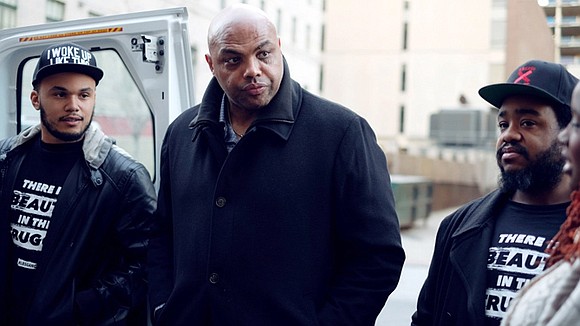 After learning that Charles Barkley would be hosting American Race, a four-episode documentary series about race relations, friends of the basketball analyst questioned his sanity.
Barkley could have hosted a show about nearly anything, they said. Maybe something pertaining to basketball or perhaps his favorite vacation spots, friends suggested. But Barkley, 54, was determined to host a show that would force him out of his comfort zone and explore in-depth conversations about race at a time when America needs it most.
Beginning May 11, TNT will air two, 60-minute episodes of American Race per night, with stories from people affected by and fighting racism, including civil rights and criminal attorney Gerald Griggs, activist Sharmina Zaidi, actor and activist Peter Jae Kim, civil rights attorney William H. Murphy Jr. and activist Justin Normand. A preview of the program's first episode will air May 7, after the NBA playoffs.
The show, produced by Barkley and Primetime Emmy winner Dan Partland, features what Barkley describes as uncomfortable yet necessary conversations. He admits that most of them were not easy, especially those with the loved ones of victims injured or killed at the hands of police officers.
In a clip shown to journalists at the Paley Center for Media in New York on Thursday, Barkley explains to a crowd in Baltimore that, after spending a day with police officers, he understands how easily split-second decisions they have to make can go awry. As Barkley continued, some members of the crowd shook their heads in disagreement.
"I don't know you, I don't like you," said attendee Diane Butler. "You said you rode with the police and you had a conversation with them, and it takes them only a split second to make a decision. Tell me why it took 15 to 20 minutes to beat my son to death? Fifteen officers, they did some horrific stuff to my child."
Butler is the mother of Tyrone West, a 44-year-old Baltimore man who died in police custody in 2013. The officers involved were cleared of any wrongdoing.
"It was surreal because I had never met a person whose son, family member, had been killed by the cops," Barkley said. "That to me was the most important thing. … These are actually real people that you'll see. I thought it was important for people to see a real mom who that happened to, instead of a 5-7-10-second blurb on the news and they go to the next story. It was really uncomfortable getting your a– kicked like that."
Other episodes feature the stories of Zaidi, a Dallas restaurant owner and Muslim woman who has faced discrimination because of her faith; Kim, an activist fighting against stereotypes on behalf of the Asian community; Normand, an activist who went viral in Dallas for showing support for his Muslim neighbors after the election of President Donald Trump; Murphy, an attorney who has spent decades advocating for civil rights in Baltimore; and Griggs, an Atlanta attorney who spent his segment conversing with Richard Spencer, a white nationalist and self-proclaimed leader of the "alt-right" aiming to preserve white supremacy.