GritGrindGrizz
Grizzlies biggest question marks this offseason: Zach? Tony?
Lee Eric Smith, lesmith@tsdmemphis.com | 5/4/2017, 8:58 a.m.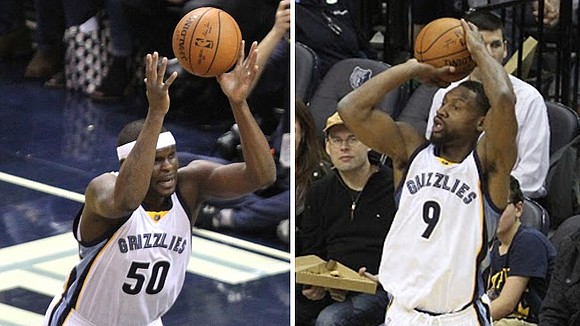 Now that the Memphis Grizzlies season is over, let's take an advance look at who might be available in the NBA Draft.
What's that? Right, the Grizzlies have no first-round pick this year. That's not to say they won't be trying to trade their way into the draft — of course they will. But there's a while yet before draft night; we'll have time to talk about that.
The bigger question would have to be this: Who do the Grizzlies want to be next season? And how will they get there?
Or, more bluntly: Will Zach Randolph, Tony Allen, Vince Carter and JaMychal Green be back?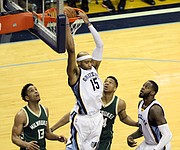 Randolph, Allen and Carter are all unrestricted free agents and can sign wherever they want to on July 1. As a restricted free agent, the Grizzlies can match any offer Green gets, if they decide to.
And there's this: To a man, each has stated a desire to remain in Beale Street Blue. Fans certainly hope that Zach and Tony in particular re-sign. If only it were that simple, though.
For all of the revamping that Grizzlies Head Coach David Fizdale did — requiring Marc Gasol (and the rest of the team) to shoot 3s, unleashing Mike Conley's offensive powers — he only produced two more wins than Dave Joerger did before bolting for Sacramento.
In fairness, injuries have sucked the hope out of the past two seasons, regardless of whether Fizdale or Joerger was coaching. But the fact remains that with a (fairly) healthy Conley, Gasol, Randolph and Allen, the team finished with 43 wins — two wins over .500.
Combined with the ever-looming spectre of Memphis' older, slower players being outrun in the "run, gun 'n' fun" NBA, it's reasonable to expect changes this summer.
But what should they do? I don't have answers; I only have questions:
Will Randolph's game ever age? The answer is NO. He'll be able to use his butt to move teenagers out of his way when he's 50. And while the team understandably wants to get more athletic, Z-Bo thrived in his "super-sub/instant offense" role off the bench. Fans love him. And who else is going to give you that kind of production for a relatively reasonable contract? If he'll agree to a reasonable contract, he should retire at FedExForum. Period.
Can Tony Allen still be an elite defender? No. But his value can't just be measured that way either. You know he will come to compete every night. And his fire gets the rest of the team going. The bigger question is whether his body will hold up.
Do you want more Vinsanity? At this point, everything Vince Carter does on a basketball court is amazing. And he's still got game. He'd be a nice consolation prize if the Grizzlies don't make significant upgrades elsewhere.
How much is JaMychal Green worth? We're about to see how this bloated salary cap thing really works. Will some desperate bottom feeder team make Green a ridiculous offer? Probably. Will the Grizzlies match it? Probably not.
Will Brandan Wright be back? Fizdale stapled him to the bench for the Spurs series, and he is probably the team's most tradeable asset. But if the team thinks Deyonta Davis is ready, I could see Wright being shipped out for that draft pick or other key free agent.
Eh. The soonest any of this can be solved will be June 22, the night of the NBA Draft. I think we'll see some fireworks that night. But I also hope the current crew returns for another go at Grit 'n' Grind. Regardless of how old or nonathletic they may be, it's just FUN to watch these guys put on their hardhats and play in this hard-knock city. Here's hoping we get another season of it.
GRIND ON!