DO BLACK GUNS MATTER?
A black guy goes to an NRA convention in the Age of Trump. Here's what happened.
Jason Johnson, The Root | 5/4/2017, 8:59 a.m.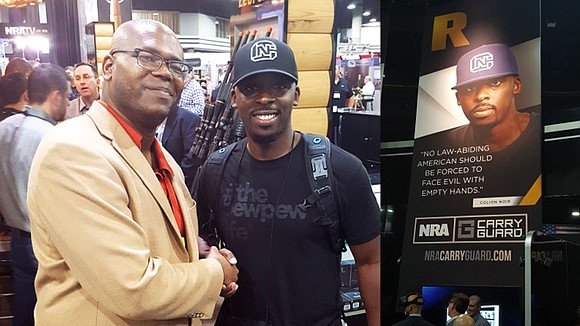 "You know that's just a Klan rally without the hoods, right?"
"Bring Kevlar."
"SMH."
None of my friends was all that hot about me going to the National Rifle Association's convention in Atlanta this year. No one. Not even my friends who owned guns. And definitely not those who hunt, and none who otherwise support the Second Amendment.
But who could blame them? It didn't exactly sound welcoming or even remotely wise to go to an NRA convention full of mostly white, conservative, gun-brandishing folks, and where Donald Trump is the keynote speaker.
I went because the NRA is all about telling Americans that guns keep you safe from everything: crime, terrorists and those jack-booted, gun-hating liberal thugs in the government. Which should be right up my alley as a black person. On top of fearing random crime and crazy white vigilantes who shoot us for being black on a sunny day, black people have much more to fear from an aggressive government, in the form of killer cops, than just about anybody else in America. I wanted to see if the NRA was offering a gun for my type of real-world #SayHerName kinds of fears.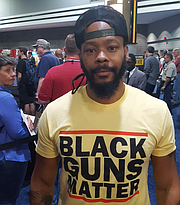 Of course, what I discovered is, there's no gat for that. We are not the target audience for their gun play. Stoking white fear of imaginary terrorists, black thugs and immigrants – and keeping in place the guns and policies that support it – is what the NRA convention is all about.
I went to the convention on Friday; it was held at the Georgia World Congress Center in Atlanta, literally across the street from CNN headquarters. As I walked in with the mostly white, men-of-all-ages crowd, snide comments about "fake news" whizzed past my ears.
Once inside, I saw that there were guns everywhere – free guns, guns from raffles, gun-training classes. Gun companies were handing out weapons as if they were T-shirts at a Hawks game. I thought President Barack Obama spent the last eight years taking everyone's guns away? Maybe they hid these until they were sure he was out of office.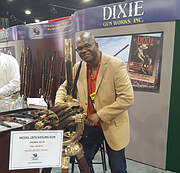 Almost all the people I talked to at the NRA convention said that they love guns but hate politics. They said that they enjoy and employ their guns safely and just want the government out of their way. Which almost makes sense, given that studies and history show that gun ownership and policy are driven by white racial resentment, not public safety or good government.
However, I didn't want to let things like facts and history deter me. The NRA is one of the largest, most powerful lobbying groups in America. There had to be a place for gun-comfortable or gun-curious black folks like myself in the NRA protection racket, right?
I spoke to Colion Noir about the connection between "gun culture" and racism, and why places like the NRA convention are perceived as being unwelcome for black folks, even those who are comfortable with guns. Noir is a lawyer, a gun advocate, a host on NRA TV and one of the few black faces I saw on any poster or brochure at the whole convention.