THE TSD INTERVIEW: OTIS L. SANFORD, Part II
Karanja A. Ajanaku, kajanaku@tsdmemphis.com | 3/30/2017, 12:41 p.m.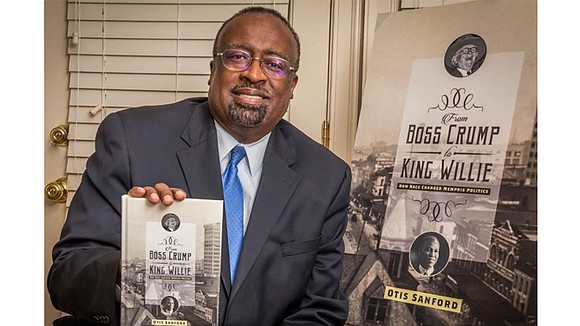 "From Boss Crump to King Willie: How Race Changed Memphis Politics" is the first book by veteran journalist Otis L. Sanford, who holds the Hardin Chair of Excellence in Journalism at the University of Memphis Department of Journalism. In this conclusion to an interview with The New Tri-State Defender, Sanford – a Sunday Viewpoint page contributor at The Commercial Appeal and a WREG-TV commentator – completes a reflective journey of Memphis marked by Edward Hull "Boss" Crump and Dr. Willie W. Herenton, who he calls "King Willie." The two former mayors and political dynamos are, he asserts, the two most significant political figures in the city's history.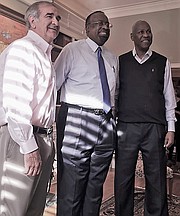 'If Crump had been alive, I don't think Dr. Martin Luther King
would have been assassinated in Memphis.
"I don't think the garbage strike would have lasted that long.
Crump would have figured out a way to resolve this thing
without it getting there."
Otis L. Sanford,
reflecting on his research about Memphis political history
Karanja A. Ajanaku: One of the things that I think that the book will do is bring out characters – and I'm talking particularly from the African-American community – that a lot of the community never heard of or just barely heard of and had no way to put them in context. A.W. Willis (civil rights lawyer, businessman and the first African American elected to the Tennessee General Assembly since the 1880s) comes immediately to my mind. You interviewed his widow (Dr. Miriam DeCosta-Willis). What was that like?
OLS: She was very honest with me on a lot of things. ... I don't think she hesitated to say that A.W. (Willis, the namesake of the A. W. Willis Bridge) made some mistakes along the way. …
First of all, she thinks that it was a mistake for him to go against (former U.S. Rep.) Harold Ford in 1974 when he (Ford) was running his first congressional race against Dan Kuykendall and he came out publicly for Kuykendall. …I think looking back at it, it was a mistake. He didn't have to say anything at all, because it certainly – and I think she even said it – didn't help him. And it didn't hurt Harold. …
Then Art Gilliam, who was writing a column (in The Commercial Appeal), blasted A.W. Willis in some pretty tough language. That I recount in the book. Yes, she was very honest with her assessment of that. Plus, he (Willis) was really upset when a lot of people in the black community did not support him for mayor in 1967. …
KAA: From his point of view, the man really did a lot (for African Americans).
OLS: He did. …He was the first African American to win a seat in the state legislature in modern times. He was part of that … legal group that said, "No, it's time to make some changes around here. We've been trying to be slow and trod along the way Blair T. Hunt wanted us to do. …Or even (Lt.) George W. Lee wanted us to do. …But now it's time to be a little bit more forceful."