LEGENDS & LEADERS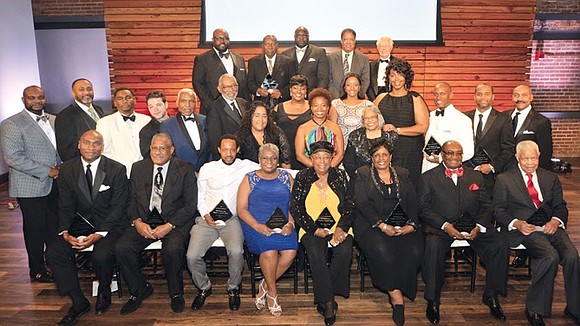 "I always feel extremely inspired after attending a Tri-State Defender recognition event."

"Thrilled to be honored at The New Tri-State Defender's Legends & Leaders Gala!"

"Congrats on a great event, Bernal E Smith, II. #Togetherwecan #IBelieveinMemphis"
These were but a few of the comments posted on social media pages of our "leader" honorees reflecting on the experience of The New Tri-State Defender's 65th Anniversary Legends and Leaders Gala held Saturday night, March 25th on the campus of St. Jude's Children's Research Hospital in the beautiful Domino's Event Center.

About 250 guests helped us celebrate the milestone in our continued evolution as a media company and trusted source of news in the Mid-South. My vision was not only to commemorate 65 years of continuous publication but also to acknowledge and honor the difference makers in our community.

The intent of "Legends and Leaders" was to recognize generations of pioneers, bold leaders and contributors to Memphis' storied history, while also encouraging inter-generational collaboration going forward. I had hoped to inspire new relationships, new purpose and a new sense of cooperation between some of our city's pioneering legends and the "new school" of current and future leaders! Based upon feedback and the energy in the room Saturday night, I am convinced that goal is well on its way to being fulfilled.

There were several magical moments during the event including the announcement of the partnership between The New Tri-State Defender and St. Jude's that includes special "inside" news coverage, marketing and promotions. We're also now a formal media partner of the "Dream Home Giveaway," and The TSD will be included in packages used to inform and promote Memphis to new recruits. Lastly, the TSD will support St. Jude in ensuring more African Americans participate in the multi-billion dollar expansion of St. Jude.

Our keynote speaker was Dr. Benjamin F. Chavis Jr., President and CEO of the National Newspaper Publishers Association. Dr. Chavis acknowledged the history and power of the black press. He also reminded us of the courage we have always had in the face of adversity and challenged us to remain diligent and not be discouraged in the face of current day battles.
During the awards presentation, each "Legend" was allowed 60 seconds to give remarks. Only a handful actually did so, and those who did made great use of the minute. Fred Davis shared that a surgeon he met through St. Jude "saved his life." Sara Lewis reminded us of the importance of education and to never stop working on behalf of our children. Madeleine Taylor acknowledged the work and continued importance of the NAACP. And former Councilwoman Barbara Swearingen-Holt thanked us for highlighting and remembering the good of people over a life of service.

Lastly, attorney Ricky Wilkins, who is battling a rare form of cancer, brought into focus the impact of strong and positive mentors, the need to pay it forward and the need for the next generation to move with a sense of urgency in concert with our elders to make the city better for generations to come.

Ultimately, it was a powerful and uplifting evening, shining a bright light on some of our city's best and brightest, allowing the TSD team to further fulfill our mission to inform, inspire and elevate those we serve.