Meet the Navy's first female African-American chief warrant officer
Summer Levert is inspired by family, mentors and fellow sailors.
Kelley D. Evans, The Undefeated | 3/28/2017, 11:34 a.m.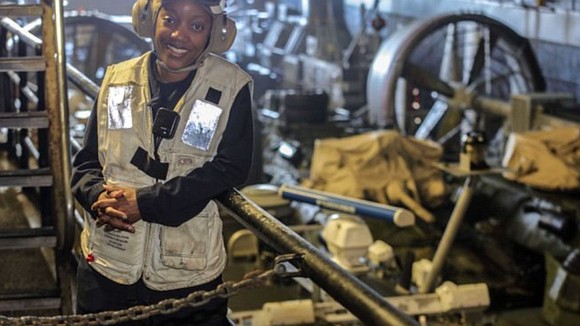 The following first appeared on ESPN's The Undefeated.
In 1997, Cleveland native Summer Levert began her military service in the Army National Guard. Now she's the first black female boatswain's mate in the U.S. Navy to hold the position of chief warrant officer.
"I joined the Navy to get out of Cleveland," Levert said. "I worked two full-time jobs and went to school part time. I needed a change because I was headed down a dead-end street. I followed my twin sister [Dawn Greene] into the Navy."
She earned the rank of boatswain's mate — an officer who is the subject-matter expert on all major seamanship functions and the maintenance of topside gear such as small-boat operations, supervising anchoring, mooring, replenishment at sea, towing, transferring of personnel and cargo, and the operation and maintenance of ship's boats — in October 2000 shortly after she enlisted.
Levert endured some challenges along the way. She worked her way up the ranks to chief petty officer in 2011. But she wanted more, so she set her sights on becoming a chief warrant officer. In 2014, she applied to the chief warrant officer program and was selected.
"I was shocked when I found out, and I still am shocked," Levert said. "Since I was selected, there have been a few more after me, so I think the Navy finally got it. The Navy focuses on building you up physically and mentally, but they also make sure they educate you and keep your mind sharp. I was 21 when I enlisted, older than my peers. I had to keep them motivated a lot of times because it was their first time away from home."
Levert recalls her first few days in the service.
"I thought I'd made a huge mistake," she said. "I was treated like garbage because I was a female. The first thing my chief told me was I was not going to sit around and get pregnant. And if I did, he would send me straight to a ship. Then he told me to go clean his toilet so he could take a crap."
When achieving success, there are always obstacles to overcome. Some obstacles are harder than others, but Levert continued to use her family, friends and mentors for inspiration to get her where she is today.
"I am inspired by my uncle, who started his career out as a hull technician in the Navy," Levert explained. "He is now a rocket scientist. My mom was a huge inspiration as well because she was a nurse in the Army Reserves while I was growing up. My twin sister inspired me to join the Navy because she enjoyed her job, traveled often, and was happy."
Levert said she never aspired to be a first at anything.
"When I was a junior sailor, I was always told that I'd never make it in this field because it is male-dominated," she explained. "When I did make it, I thought that because the year was 2014 and the Navy so large that there had been a black female before me out there somewhere."