Elite 8-bound: Kentucky beats UCLA 86-75 in South semifinal
Teresa M. Walker, AP Sports Writer | 3/25/2017, 12:41 p.m.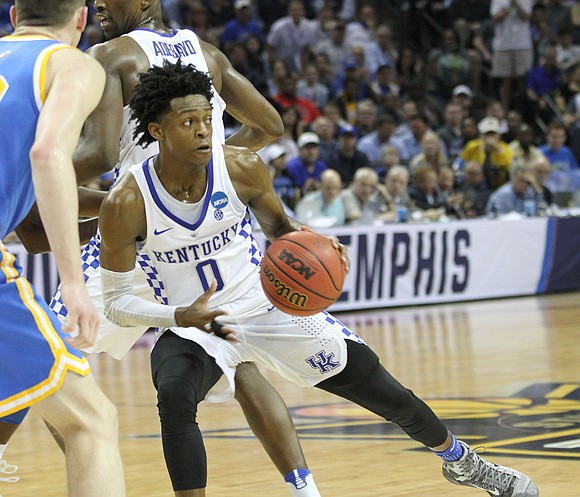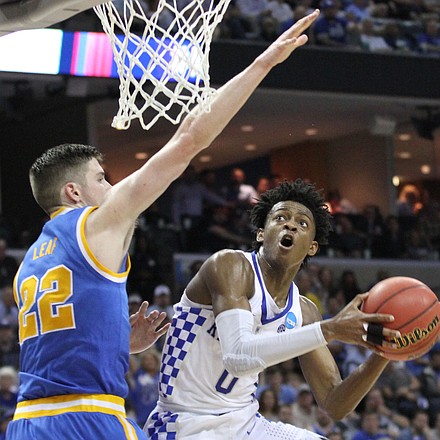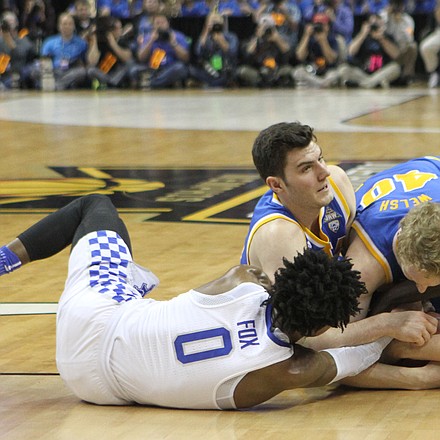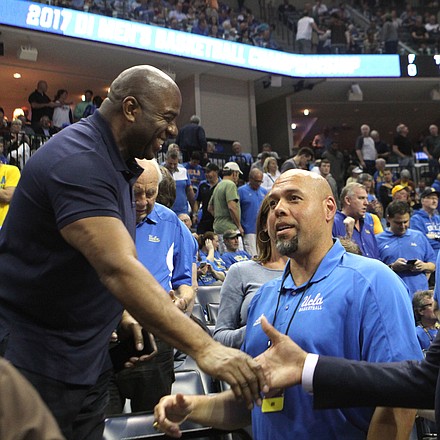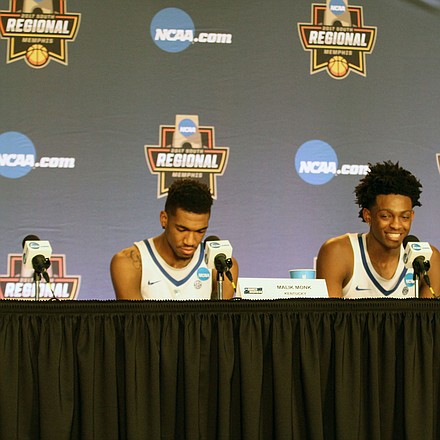 MEMPHIS, Tenn. (AP) — De'Aaron Fox credits some sticky Kentucky defense for the Wildcats' latest berth in a regional final.
Coach John Calipari begs to differ.
He points at Fox, the freshman guard who outplayed UCLA phenom Lonzo Ball with one of the best scoring nights in Kentucky's vaunted NCAA Tournament history.
Fox scored a career-high 39 points as Kentucky beat UCLA 86-75 Friday night in a showdown between two of college basketball's goliaths for a spot in the South Regional final.
"All I did at halftime was say: 'Guys. Are you watching this game?' and they said yeah,'" Calipari said. "I said; 'Ok good. You know we are playing through De'Aaron Fox. The rest of you take a back seat and play off of him.'"
Fox not only turned in the best NCAA scoring performance since Tayshaun Prince had 41 against Tulsa in 2002, it was the best by a freshman in tournament history.
"I scored like the first 8 points of the game, and after that I was like you know it's going to be a good night for me," Fox said.
The only No. 2 seed to advance to the Elite Eight, the Wildcats (32-5) won their 14th straight game. Now the NCAA's winningest program will play another of basketball's titans Sunday in top-seeded North Carolina, a 92-80 winner over Butler earlier Friday, with a trip to yet another Final Four on the line.
The third-seeded Bruins (31-5) still have the most national titles. Yet they leave their third Sweet 16 under coach Steve Alford short of the Elite Eight.
"We just got beat by a very good team that played very, very well tonight," Alford said.
Fans lustily booed Calipari in his first game in Memphis since leaving in April 2009 for the Wildcats . Calipari's latest crop of talented freshmen put Kentucky into a regional final for the sixth time in seven years.
Malik Monk scored 21 points for Kentucky, and Dominique Hawkins added 11.
This was the fourth time these powerhouses have met in the past three seasons, and UCLA upset then-No. 1 Kentucky in Rupp Arena with a 97-92 win on Dec. 3.
Fox didn't play his best in that game, taking 20 shots to get 20 points. That wasn't a problem with Kentucky fans making the FedExForum as comfortable as Lexington. Fox scored the first eight points for Kentucky and was all over the court forcing turnovers or diving to the floor to force a jump ball.
He outplayed Ball, who finished with 10 points on 4 of 10 shooting before announcing he had played his final game for UCLA. Ball handed out eight assists but also had four turnovers.
Freshman TJ Leaf and Isaac Hamilton each had 17 points for UCLA.
Kentucky shut down the nation's top scoring team, holding UCLA well below its average of 90.2 points a game and just a point off its season-low.
"We really picked it up defensively," Fox said. "That's why we won. Not because of our scoring. That team averages like 90 points a game, and we held them to ... 15 less than their average."