The TSD Interview, Part I: OTIS L. SANFORD
The veteran journalist digs into the history of Memphis politics with his new book, "From Boss Crump to King Willie."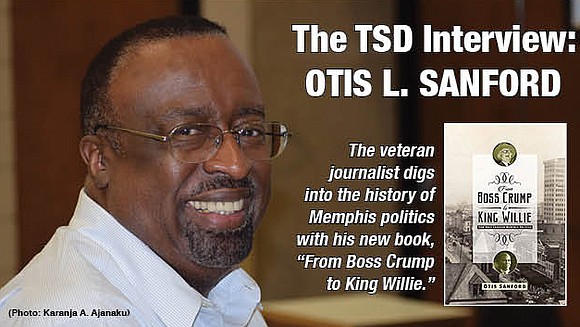 Veteran journalist Otis L. Sanford, who holds the Hardin Chair of Excellence in Journalism at the University of Memphis Department of Journalism, has completed his inaugural book: "From Boss Crump to King Willie: How Race Changed Memphis Politics."
My relationship with Sanford dates back 40 years. He became a reporter at The Commercial Appeal a few months ahead of me in 1977. Later, his career took him to the Pittsburgh Press and then to the Detroit Free Press before he returned to The CA, where he furthered distinguished himself as deputy managing editing and then managing editor.
Still a Sunday Viewpoint page contributor at The CA, many know Sanford for his commentary on WREG-TV. He worked three-plus years on the writing of this book, taking advantage of an opportunity to build on an idea that he started thinking about before he left The CA.
Asked by the University of Tennessee Press to submit a proposal, he did, getting the OK to go full speed ahead.
"I had it in my head for the last five, six, seven years that I wanted to try to connect the dots between Boss Crump and the election of Dr. Herenton, who I believe are the two most significant political figures in the history of Memphis. There's a story there about what connects them," Sanford said.
We met in Sanford's office and soon delved into a discussion of the title – "From Boss Crump to King Willie: How Race Changed Memphis Politics." Sanford said he was a bit hesitant about calling Dr. Herenton "King Willie. I didn't want him to get mad at me. …Well, in the end, he loves it….He embraced it….I didn't tell him initially what the title was. …I think I told him about a month or two ago. He said he was fine with it."
Karanja A. Ajanaku: Tell me about (the) interview (with Herenton).
Otis L. Sanford: The first and the longest interview that I had with Dr. Herenton was in December of 2014. …I didn't interview him right away. … let me lead up to that.
KAA: OK.
OLS: I knew I wanted to do it in chronological order. I started with everything that I could do research wise on Boss Crump. I knew that nobody (was alive) who really could tell me the story of Boss Crump from an eyewitness standpoint. …I was at the library all the time. They know me on a first-name basis over there….Wayne Dowdy over at the library helped me…That man was tremendous for me. I was actually writing chapters as I was going along in the book.
Sanford interviewed Dr. Herenton at Herenton's office in the Nonconnah Industrial Park. The conversation lasted two to three hours. Knowing that Herenton had plans to write his own book, Sanford made a point to stress that he wasn't writing "Dr. Herenton's story."
"This book is not any one person's complete story, but I'm hoping that it will be seen as the complete story of Memphis and Memphians," Sanford said. "And the people they put trust in politically to lead the city forward. The two most important individuals in the book are Boss Crump and Willie Herenton, but there are others who are in the book as well."