Broadway icon Audra McDonald takes her talents to 'Beauty and the Beast'
The new mom talks about battling stereotypes, her dream of portraying Marian Anderson, and her schoolmate Viola Davis
Kelley L. Carter, The Undefeated | 3/17/2017, 11:32 a.m.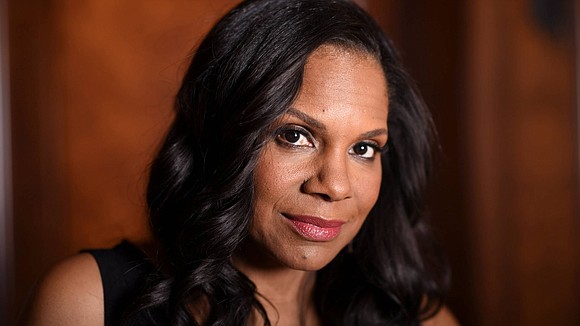 "I will admit this," said Audra McDonald before letting a giggle filter through. "Our baby — our new, 4-month-old baby — if you count backwards, she's a Super Bowl baby, from the big Broncos win."
Ahem.
"Big. Old. Shocker."
Indeed, this time last year, the six-time Tony winner was surprised to discover she was about to be a mom again. So were the fans who were excited to see her in the historic, all-black Broadway production of Shuffle Along and in her West End debut for Lady Day at Emerson's Bar and Grill, which was set to open in London last summer, a production that earned her a Tony in 2014.
She had to take a maternity leave from Broadway (Shuffle closed) and the London show had to be postponed (she'll head to the U.K. this summer for it) — but she said her husband, the actor Will Swenson, is the world's biggest Denver Broncos fan, and well, when Von Miller was strip-sacking Cam Newton on his way to winning the game's MVP in Levi's Stadium last year, things got frisky in the McDonald-Swenson household.
The Broncos owe her a onesie.
"Riiiiiight?"
Right.
It's all worked out — and then some. McDonald took a quick break from her beloved stage to co-star in Disney's new Beauty and the Beast, a live-action version of the classic 1991 animated film. Production for the fairy tale began last May at London's Shepperton Studios. As with the animated version, the film tells the story of a prince who is placed under a curse. All of his servants are turned into random objects in his castle, as well.
McDonald portrays Madame Garderobe, an opera-singing lady-in-waiting who is in love with fashion and helps doll up Belle (Emma Watson). With this role, McDonald is doing in film what she's managed to expertly do on Broadway for years.
From the start of her career, McDonald has successfully defied racial typecasting. Part of a military family, she was born in West Berlin and raised in Fresno, California. She's starred in Broadway roles that were never intended for a black actress, and she's one of the most successful stage actors of all time.
"My parents were the ones who — literally and figuratively — led me to theater as a way to channel a hyperactivity and energy that I had that was … becoming an issue," said McDonald. "We found this outlet for me, it was a perfect fit. And they were very concerned and made sure that I never played any role that was any type of stereotyping." McDonald said there were a couple of shows that she wanted to audition for that would have perhaps been demeaning. Her parents weren't having it. "It became buried in my psyche," she said, "so that for me, it was all about, 'What role am I right for? What essence of the character am I right for?' As opposed to, 'Well, that's a black person so I can play that.' I just refused to be stereotyped."