Kyle Veazey: Meeting people where they are
Brittney Gathen, Special to The New Tri-State Defender | 3/16/2017, 10:55 a.m.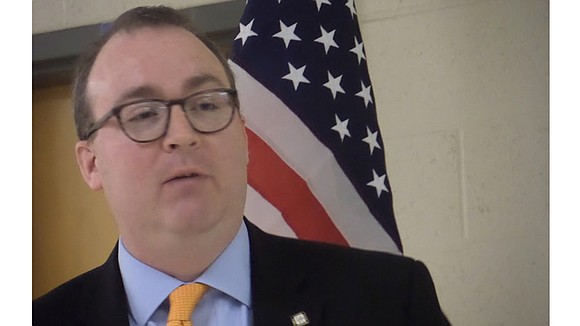 As the deputy communications director for the City of Memphis, Kyle Veazey is involved with positioning Mayor Jim Strickland's administration to communicate directly with the citizens it serves.
At the Frayser Exchange Club meeting on March 9, he emphasized Strickland's aim to have his administration engage in meaningful conversations that will benefit Memphis communities.
"What the mayor tasked us to do are two things: be the most transparent administration and meet people where they are," Veazey said.
"His charge to me is that we actually talk about real challenges and celebrate the successes. The worst story you can tell is, 'Here's a challenge, and we're not doing anything about it.' And one of the best stories you can tell is, 'You know what? There is a challenge, but here are all the things we're doing about it.' I think that's the theme of what he (Strickland) does."
Veazey noted the different ways that Strickland's administration tries to stay connected with Memphis communities, such as using social media and timely email updates.
The Frayser Exchange Club audience, which included District 3 Shelby County Schools Board Commissioner Stephanie Love, listened attentively and then voiced concerns about a range of issues, including gun violence and employment.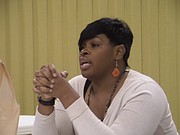 "We still have this big issue with our children killing each other and with adults killing each other," said Love, who acknowledged Strickland's mentoring program but asserted that a change in the "mindset of the parents" was needed to enhance the effectiveness of mentoring efforts.
"Is the mayor having any discussions about how we can help the parents help their children, which will in turn help the neighborhood become better?"
Veazey said Strickland's administration is communicating with legislators in Nashville to discuss the impact of gun violence on the Memphis community and that Memphis Police Department Director Michael Rallings is actively addressing the issue.
Youth programming is one of Strickland's passions, said Veazey, pointing out that summer job programs and initiatives such as the "My Brother's Keeper" job event occurring in June are some of the ways that the administration is moving to offer youth positive options.
While there is no single initiative to address parenting, Veazey said addressing economic development (i.e. attracting good jobs) could help tackle issues such as violence. He also mentioned that there are parenting centers throughout the city.
Steve Lockwood, executive director of the Frayser Community Development Corporation, pinpointed concern about the Nike North America Logistics Campus, which is located at 3100 Frayser Blvd. Frayser residents had hoped for a better community partnership, particularly regarding job offerings.
There appears to be a pattern of keeping employees on as temps for various reasons such as not wanting to pay benefits, Lockwood said.
"We all put in a lot of money in incentives to bring that company there," Lockwood said. "I wish that the city, from their vantage point, would put Nike on notice that we expected them to create decent, full-time jobs for people."
Veazey said Strickland had made onsite visits to different employers in Memphis, but he wasn't sure if the mayor had visited the Frayser Nike facility. If committed to finding out and moving accordingly.