GritGrindGrizz
Lee Eric Smith, lesmith@tsdmemphis.com | 3/16/2017, 10:54 a.m.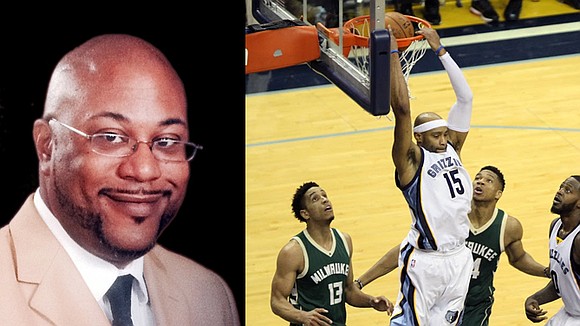 My fiancé asked me Monday if the Grizzlies' game that night against the Milwaukee Bucks was a big game.
"It shouldn't be, but it is," I chuckled. "Ordinarily, a Monday night game against a Eastern Conference sub-.500 team would be a yawner. But the Grizzlies don't want to lose six in a row or go winless on this four-game homestand. They'd better come to play tonight."
And come to play they did, from the starting tip, but not before some difficult news broke. Chandler Parsons, who has been the object of much fan frustration, has been sidelined indefinitely with a meniscus tear in his left knee. He likely won't return this season.
"I just feel bad for him," Head Coach David Fizdale said after Memphis beat Milwaukee 113-93 Monday night. "I just can't stress enough the amount of time the guy invests into being a professional athlete. Right now I'm just really worried about him mentally because right now he feels like he's letting the team down."
It's certainly bad news for the team, but with a potential upside. It's pretty much universally agreed that a fully healthy Parsons would elevate Memphis into the Western Conference elite. But Parsons was never fully healthy — which didn't stop the team from allocating minutes for him to find his rhythm again.
When Parsons could actually get on the court for the Grizzlies — he only played in 34 games — he was largely ineffective. Parsons averaged 6.2 points, 2.5 rebounds and 1.5 assists in just under 20 minutes a night. The Grizzlies were hoping more for the 14 point, five rebound version of Parsons that played in Dallas last season.
It's all moot now. Everyone will be surprised if Parsons suits up again this season. And therein lies the upside: Parsons' minutes will now be divvied up among other wing players: Tony Allen, Vince Carter, Troy Daniels and James Ennis III. Despite his age, Allen's energy is still necessarily contagious, particularly on the defensive end to start games. It's no coincidence that with Allen back in the starting lineup, the Grizzlies mauled the Bucks from the opening tip.
Also, whatever Vince Carter has lost in athleticism at age 40, he makes up for in veteran savvy and experience. I wouldn't expect too many more 24-point games out of him (like the Milwaukee games), but in the latter parts of a season, there's nothing like having a seen-it-all veteran available who almost always makes the right decisions. That said, if we're relying on the oldest man in the NBA to play like he's 10 years younger, that spells trouble for the Grizz.
Which brings us to probably the two biggest beneficiaries of Parsons' absence: Daniels and Ennis. We've seen Daniels catch fire before from beyond the arc, and when he does, it is absolutely spectacular. Unfortunately, he's streaky that way. He's only shooting 33 percent from the arc over the past five games. And yeah, he went 4-5 from three against the Clippers, but three of those were in extended garbage time after the Clippers had already clinched the win.