How black Utah Jazz players have embraced Salt Lake City
Marc J. Spears, The Undefeated | 3/15/2017, 11:56 a.m.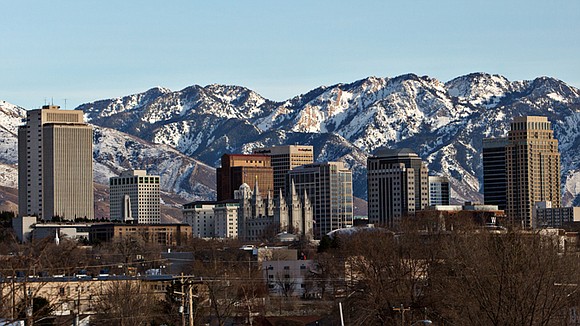 After catching a rare sight of a black man pumping gas in Salt Lake City in 1980, Utah Jazz guard Darrell Griffith felt the need to approach his fellow "brotha."
The only black people who the then-rookie guard regularly saw after coming to the city were his own Jazz teammates. At the time, Salt Lake City had a 1.5 percent black population. While Griffith hoped that the man had the blueprint for black male survival in Utah, those visions of grandeur ended like a missed layup.
"I went to this gas station-store over by my motel to get a soft drink and I see this black guy pull up in a black Cadillac Seville," Griffith told The Undefeated. "I went up to him to ask him where the black population was. I told him, 'Hey, I'm just getting in town and I'm playing ball for the Jazz. I just want to know where the brothas are at?' He said, 'Man, I was just getting off the expressway to get some gas. I'm from California. Good luck with that one.' "
Of the 30 NBA teams, there isn't a market that seems less conducive to an African-American player than Salt Lake City, the home of the two-time Western Conference champion Jazz.
Salt Lake City's population has always been predominantly white. In 2016, the city was 75 percent white and 2 percent black. Utah itself was a mere 1.6 percent black in 2010, according to the U.S. Census Bureau. While the lack of black residents is a real issue for the black players on the Jazz past and present, once they figured out their surroundings and met people, they loved playing there.
"I never had any problems. The people always treated me nice," said former Jazz forward-center Thurl Bailey, an African-American who converted to Mormonism.
"There are a lot of great people out there. They try to help you as much as they can," said Jazz forward-center Derrick Favors. "Everybody speaks to you. Everybody smiles. Everybody says hello. I've never witnessed any kind of [racism] out there. It's a great place."
The Undefeated recently spent time in Salt Lake City to investigate what it is like to be black playing for the Jazz and got the rundown on one of the NBA's most unique cities from its culture, entertainment, and so much more.
WELCOME TO SALT LAKE, BROTHA…
The Jazz have not had a reputation for landing major free agents in their history since arriving to Salt Lake City from New Orleans in 1980. Hall of Famers John Stockton and Karl Malone, 2017 NBA All-Star Gordon Hayward and defensive standout center Rudy Gobert were draft picks as well as other notable former players like Bailey, Paul Millsap, Deron Williams, Bryon Russell and Mark Eaton. Favors, starting point guard George Hill and reserve forward Boris Diaw came from trades.
For most of the team's black newcomers, there was some worry upon arrival.
"I come from a community that was predominantly African-American," said Griffith, a black Louisville, Kentucky, native who starred at the University of Louisville. "I was used to black women. It was totally different for me. It was different.