Snoop Dogg points gun at 'clown' Trump in satirical music video
theGrio | 3/14/2017, 11:44 a.m.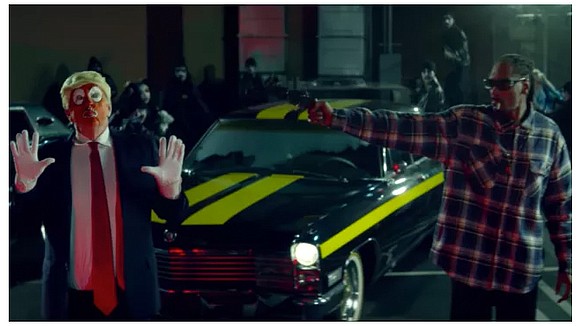 Snoop Dogg's latest music video, "Lavender," is drawing some controversy because it depicts President Donald Trump as a clown and, at one point, shows Snoop pointing a gun at him. Even though the gun is fake and the only thing that comes out is a "bang" flyer, it still has people raising their eyebrows.
Still, Snoop told Billboard that Trump isn't the only thing the satirical music video is meant to take aim at.
"The whole world is clownin' around, and [Jesse Wellens, the director's] concept is so right on point with the art direction and the reality, because if you really look at some of these motherf–kers, they are clowns," he explained.
""The ban that this motherfker [Trump's Muslim ban] tried to put up; him winning the presidency; police being able to kill motherfkers and get away with it; people being in jail for weed for 20, 30 years and motherfkers that's not black on the streets making money off of it. But if you got color or ethnicity connected to your name, you've been wrongfully accused or locked up for it, and then you watching people not of color position themselves to get millions and billions off of it," he added.
Snoop said that he wasn't concerned about the controversy the video would and has generated.
"When I be putting sh out, I don't ever expect or look for a reaction. I just put it out because I feel like it's something that's missing. Any time I drop something, I'm trying to fill in a void," he said. "I feel like it's a lot of people making cool records, having fun, partying, but nobody's dealing with the real issue with this f–king clown as president, and the sh that we dealing with out here, so I wanted to take time out to push pause on a party record and make one of these records for the time being."