GOP health care bill would leave 24 million uninsured
Erica Werner, AP Congressional Correspondent | 3/14/2017, 12:13 p.m.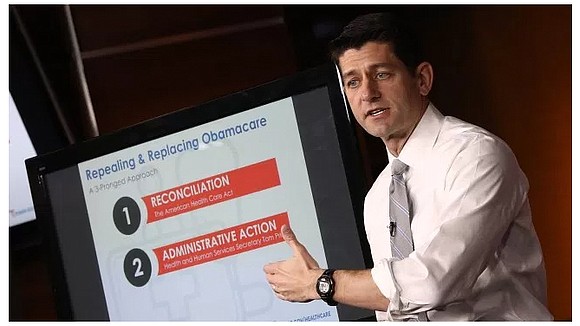 Senators were just beginning to absorb the CBO findings Monday night. The approaching winter storm had delayed the arrival of House members to the Capitol.
"It's awful. It has to be a concern," Sen. Bill Cassidy, R-La., said of the budget office findings. "President Trump said he wanted as many people covered as under Obamacare."
"At the end of the day, we should pause and try to improve the product in light of the CBO analysis rather than just rejecting it," said Sen. Lindsey Graham, R-S.C.
Price planned to meet with GOP senators Tuesday to discuss the issue.
All along Republican leaders have assumed that once it comes time to vote, few if any Republicans will dare vote "no" on the repeal and replacement of "Obamacare" that their party has been promising for seven years. They are relying on Trump's popularity with conservative voters to close the deal, and Trump on Monday announced he would be traveling to Kentucky for a rally early next week.
But the Congressional Budget report seemed likely to increase some Republicans' discomfort with their approach, especially those representing states that expanded Medicaid coverage under Obama's law. Roughly 14 million fewer people would have Medicaid coverage over a decade as the GOP bill cuts $880 billion from the federal-state health program for the poor and disabled, the CBO said.
Trump pledged during the presidential campaign that he would not cut Medicaid, but the bill would violate that pledge, as well as fail to meet Trump's stated goal of "insurance for everybody."
The CBO report also undercuts a central argument that Trump and other Republicans have cited for swiftly rolling back Obama's health care overhaul: that the health insurance markets created under the 2010 law are unstable and about to implode. The congressional experts said that largely would not be the case and the market for individual health insurance policies "would probably be stable in most areas either under current law or the (GOP) legislation."