Andre Iguodala's 'master' comments disrespect the experience of actual slaves
Marc J. Spears, The Undefeated | 3/13/2017, 11:03 a.m.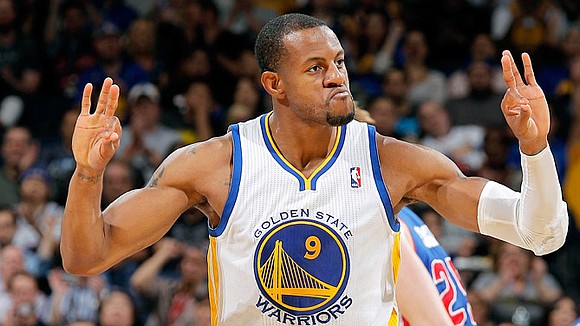 Editor's Note: The following story first appeared on ESPN's The Undefeated.
When on his way to work, one of my fellow African-American buddies has told me on several occasions that he is about to go to "The Slave." The man has a master's degree, a two-bedroom apartment with a filled refrigerator. He drives an SUV, makes six figures, travels abroad and comes and goes as he pleases.
Going to "The Slave"?
My response: Such asinine talk is disrespectful to slaves past and present.
There is no whipping or other methods of pain. No shackles. No humiliation. No lack of opportunity. No lack of food. No extreme verbal degradation. No extreme working conditions. No rape. No lack of clothing. No fear of survival. After hearing this rant from me several times, he said, "My bad," and hasn't described his trek to work that way ever since.
After a frustrating 103-102 road loss to the Minnesota Timberwolves, Golden State Warriors forward Andre Iguodala's words were equally as mind-blowing. It was bad enough that the 13-year NBA veteran said the "N-word" three times in a postgame media presser, but the 33-year-old had racially charged words when asked his opinion about Warriors coach Steve Kerr sitting him and NBA All-Stars Stephen Curry, Klay Thompson and Draymond Green on Saturday against their Western Conference rival San Antonio Spurs.
"I do what master say," Iguodala said.
What "master say"?
It can be implied that by using the word "master," short for slave master, Iguodala is speaking of Kerr. Iguodala is extremely intelligent and very methodical with his words. There is always a method to his madness. Even though the 2015 NBA Finals MVP knows what he's saying and is often calculated, this statement was quite confusing. Even outspoken Warriors newcomer forward Matt Barnes said, "Whoa," when told of Iguodala's comments. Another teammate warned Iguodala to expect a fine from the NBA.
Kerr just happens to be white, but he deserves an honorary "black card" in my book. The third-year Warriors coach is as woke of an NBA coach or any coach there is in sports. Kerr has said more for blacks on social issues in the last year than many black NBA or NFL head coaches have. Facts.
If a black man had to have a so-called master, you'd better hope and pray it's a white man like Kerr.
"No matter what side of the spectrum you're on, I would hope that every American is disgusted with what is going on around the country," Kerr said in September 2016 after the fatal shooting of Terence Crutcher, a 40-year-old unarmed black man, at the hands of police. "What just happened in Tulsa two days ago, Terence Crutcher … Doesn't matter what side you're on in the [Colin] Kaepernick stuff, you'd better be disgusted with the things that are happening."
Iguodala later told ESPN's Chris Haynes that his words were an inside locker room joke rather than a verbal shot at Kerr. Could that inside joke instead be a shot at the NBA and its commissioner Adam Silver for a schedule?