G ☺☺D BLUE & Y☺U: MPD Deputy Director Mike Ryall
Love and acceptance solid foundation for building a great community.
Kelvin Cowans, Special to The New Tri-State Defender | 3/11/2017, 9:40 a.m.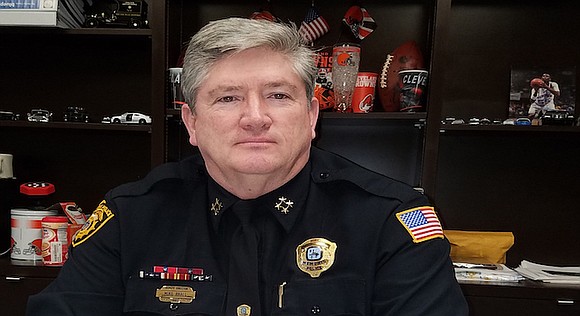 (Just as a neighborhood should not be judged by the actions of a few bad apples, neither should law enforcement agencies. The New Tri-State Defender's "Good Blue & You" column spotlights law enforcement officers who do it right. This week's focus is on Memphis Police Deputy Director Mike Ryall.)
Memphis Police Deputy Director Mike Ryall graduated from Coosa High School in Rome, Ga. in 1973. At Jacksonville State University in Alabama, he majored in criminal justice, with a minor in sociology, en route to his childhood dream of becoming a police officer. In 1983 he hooked on with the Memphis Police Department.
During my visit to Ryall's office, I noticed a desk full of neatly stacked papers. On a nearby shelf, I took note of a small shrine to his favorite NFL team, a toy police car collection and a photo of homegrown basketball star Lorenzen Wright, the victim of one of Memphis' most famous unsolved murders.
Kelvin Cowans: What got you into law enforcement?
Deputy Director Mike Ryall: I think as a young kid I had always been interested (in) police work. Back then it was more TV, just good ole' cops and robbers. It kind of never died as I grew older. When I started college it was a fainting memory on a desire to be a police officer.
I've always had a desire to help people. To put it short and sweet, as I grew and started my secondary education, it just never left me. I began looking into that world ,which I found in a small town in Georgia called Rome with a population of about (35,000). The Rome Police Department is where I actually started my law enforcement career before I landed in Memphis.
KC: You said TV shows got your attention to be a police officer as a kid. Will you share with us (the) shows you would watch?
Deputy Director Ryall: Oh my goodness, I watched "Mannix," "T. J. Hooker" and "Starsky and Hutch." You know that was the flavor for a while back then. TV went from westerns to police shows after "Gunsmoke" and "Bonanza."
KC: You have any family in law enforcement?
Deputy Director Ryall: I'm actually the only one. I have two brothers and one of them is a manager of a grocery store and the other (is) a teacher.
KC: What would you say that you've learned about people over your years in law enforcement?
Deputy Director Ryall: I've seen the pendulum shift over the years. When I started in this community so many years ago, there was a trusting environment of police officers. As the years grew I think that not just here but in all of America the entire shift changed because of lack of trust. We've got to really work and labor to build that trust back from our side. Some of it is valid, unfortunately, and some of it is uncalled for as well.
I think that much of it is dealt with on a perceptive issue … information is put out improperly, which creates distrust. One thing I've learned is that people are people generally. They react to love and acceptance. I think when you exhibit an environment of loving your fellow brother or sister and accepting them into their role in society, you can grow off of that and build a great community.