Vouchers in Tennessee - an explainer
Here's what you need to know about Tennessee's latest voucher proposal.
Grace Tatter, Chalkbeat Tennessee | 3/10/2017, 4:23 p.m.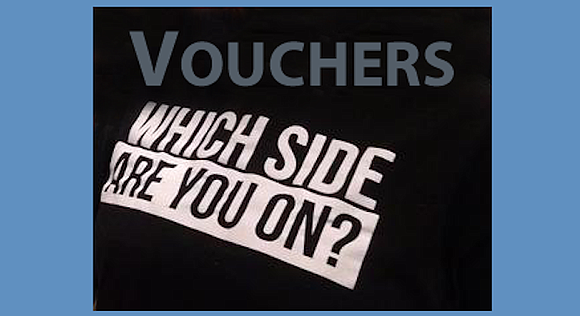 If a private school was below expectations according to TVAAS, they wouldn't be allowed to enroll new students through the voucher program. After two years, they would be cut off from voucher money altogether.
Kelsey is wary of making private schools take the same tests as Tennessee public schools after last year's testing malfunctions. "I'm a little reticent to put a disastrous test onto private schools," he said Wednesday.
How is the Kelsey-Brooks bill different from last year's voucher bill?
This bill only targets Memphis and offers far fewer vouchers — a cap of 5,000, instead of 20,000 under the proposal sponsored by Rep. Bill Dunn of Knoxville. Dunn's bill would target students zoned to the bottom 5 percent of schools in Tennessee, most of which are in Memphis and Nashville, with some in Hamilton, Knox and Madison counties. Like Kelsey's bill, the proposal allows any students who reside in the district to take leftover vouchers, meaning potentially students zoned even to high-performing schools in Memphis, Nashville, Knoxville, Chattanooga and Jackson could cash vouchers out at a private school. Dunn's bill, which is sponsored in the Senate by Todd Gardenhire, is also under consideration this year, though it has not yet been voted on.
What are the chances that the newest voucher bill becomes law?
Hard to say. Vouchers have swept through the Senate for six years, and this proposal is almost certain to pass that chamber as well. But the House has been trickier. Dunn's voucher bill made it to the House floor last year — the farthest a voucher bill had ever gone in that chamber — before he pulled it at the last minute. He said he was just shy of the needed votes and that some lawmakers had been scared off after getting pushback from from their local school boards.
This year, lawmakers hope that targeting Memphis and putting an expiration date on the pilot will allay fears from people outside of Memphis. "We're doing everything possible to remove anyone's objections to trying this," said Rep. John DeBerry, one of the few Memphis caucus members who supports the measure.
Who supports it?
In addition to a broad swath of lawmakers — mainly Republicans, but also DeBerry and Sen. Reginald Tate, both Democrats from Memphis — vouchers have gotten support from educational advocacy organizations such as TennesseeCAN, the Tennessee Federation for Children (formerly led by U.S. Secretary of Education Betsy DeVos), and Memphis-based Campaign for School Equity. Representatives from those groups argue that vouchers empower parents to make better decisions for their child's education.
LaShundra Richmond, a Memphis parent who has worked for a school choice advocacy group in the city, testified Wednesday to the Senate Education Committee on behalf of Campaign for School Equity. She had pulled her daughter out of a charter school this year in favor of a private school. "It was no indictment of that (charter school), it was not a stab at the school system," Richmond said. "As a parent, I am charged with ensuring her academic success. … I am burdened by how many families and parents do not have that option."
And who opposes it?
Groups representing teachers, superintendents, school boards and school districts all oppose the bill, wary of the potential negative learning impact on student participants, as well as the loss of education funding to public schools.
The opposition isn't just from Memphis, which would be most impacted. Former state Sen. Roy Herron, a lobbyist for a coalition of rural districts known as the Tennessee School Systems for Equity, told lawmakers on Tuesday that any voucher legislation opens the door to more expansive policies in the future.
"We know that what starts in Memphis won't stay in Memphis," Herron said.
NOTE: What other questions do you have about school vouchers? Email tn.tips@chalkbeat.org?
(Email Grace Tatter at GTATTER@CHALKBEAT.ORG.)