The notorious night Biggie was murdered in Los Angeles
Shaq, Baron Davis, and Nick Van Exel reflect on The Notorious B.I.G., his murder, and the city they called home.
Justin Tinsley, The Undefeated | 3/10/2017, 12:10 p.m.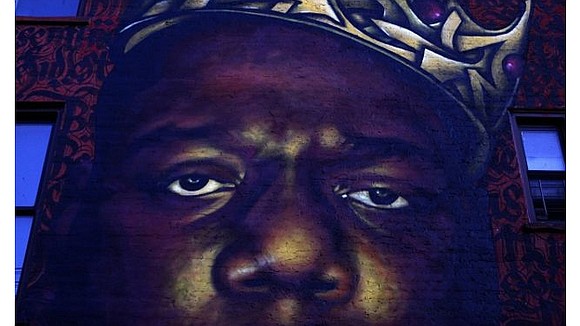 The following first appeared on ESPN's TheUndefeated.com.
Ordained with a flow as soulful to black, post-Reaganomics America as Louis Armstrong's trumpet during the days of the civil rights movement, the street narratives of Brooklyn's own Christopher Wallace — deified in music history as The Notorious B.I.G. and as Biggie Smalls — helped make him a definitive voice of a generation. Then, in the Miracle Mile area of Los Angeles, in early morning hours of March 9, 1997, a paranoia he fought desperately to escape became his reality. Wallace's still-unsolved murder remains an open wound. Here we catch up with a few of the 1996-97 Los Angeles Lakers — Shaquille O'Neal, Nick Van Exel, and Corie Blount — as well as L.A.'s own Baron Davis and Marcellus Wiley (and O'Neal's mother Lucille) to discuss what it was like living and playing in Los Angeles at the time of Biggie Smalls' murder. Some were even supposed to be with B.I.G. the night he was hit by four bullets in a drive-by shooting.
Lucille O'Neal always knew where her child was. Until the morning hours of March 9, 1997.
Her eldest son, Shaquille, was one of the most recognizable faces in America. A jovial, 7-foot, platinum-selling rapper, then a five-time NBA All-Star, gold medal winner, movie star, and the new face of the Los Angeles Lakers, Shaq's presence and crossover appeal was second only to Michael Jordan's. But he was still his mother's son. And now Biggie was dead, and Shaq had told Lucille he was attending a party with Biggie that night at a Soul Train Music Awards after-party. It was to take place at the Petersen Automotive Museum, sponsored by VIBE magazine.
From her home in Orlando, Florida, Lucille picked up her phone. Shaq answered groggily. Shaq had been beyond ready to party with Biggie. The museum wasn't too far from a Wilshire Boulevard penthouse he was staying in at the time. Shaq's long white coat and white top hat had already been picked out. But a nap beforehand couldn't hurt. A second nap couldn't either. He ended up sleeping through the night, and missing everything.
"It was … a relief knowing where he was," said Lucille. "But sad at the same time."
Days before, Shaq had run into Biggie outside a tattoo parlor on Sunset Boulevard. "Yo, man. Be careful," he told Biggie. Shaq, speaking via phone, says the light warning was a reference to the rapper's presence in Los Angeles only six months after the murder of Tupac Shakur in Las Vegas.
Biggie was in California to promote his insanely anticipated sophomore album, Life After Death. And, two, to demonstrate that no matter how many records and magazines it sold, the perceived "East Coast-West Coast" rap civil war was overblown. In his last interviews — with Sway Calloway and with BET Rap City host Joe Clair — Biggie is attempting to move past what was then an unavoidable cloud over hip-hop. Fifteen days before his death, Snoop Dogg of the West and Bad Boy founder and CEO Sean "Puffy" Combs of the East, guest-starred as themselves on popular sitcom The Steve Harvey Show. In an effort to ease tensions, they shook hands and agreed to work together.