Making sense of a lynching 125 years later
Commemoration events harked back to the "People's Grocery Lynching" and provided a platform for responding to modern-day challenges.
Santoine Key, Special to The New Tri-State Defender | 3/10/2017, 12:24 p.m.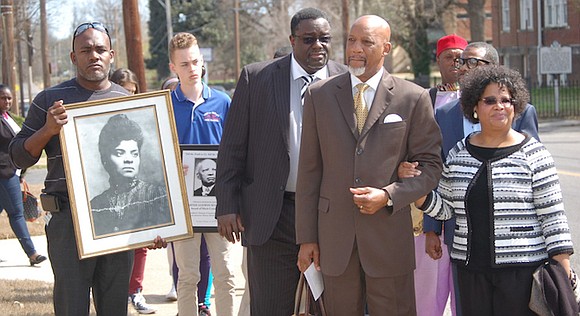 Lynch: to put to death (as by hanging) by mob action without legal approval or permission.
A look back and a glance ahead marked the commemoration on Thursday of the 125th anniversary of what now is known as the "People's Grocery Lynching."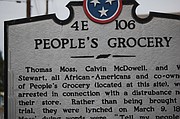 "This is one of the most significant incidents in American history or even in world history because it launched the African International Crusade against lynching," said Clarence Christian, president of the Memphis Area Branch of the Association for the Study of African American Life and History (ASALH).
Christian was among several speakers to address a group of about 40-plus people who attended the commemoration at Second Congregational Church, 784 Walker Ave. The observance acknowledged the frightful end that came to the lives of Calvin McDowell, Thomas Moss and Will Stewart in March of 1892.
McDowell, Moss and Stewart owned People's Grocery at Mississippi Blvd. and Walker Ave. The immediate backdrop was this: The trio of African Americans operated a successful grocery store that threatened the livelihood of William Barrett, a white man who owned a nearby grocery.
Backing Barrett, who had been made a deputy, a group of white police officers showed up at People's Grocery and a shootout ensued. Several of them were injured, with the fallout being McDowell, Moss and Stewart locked up in the Shelby County Jail.
A few days later, a gang of about 75 white men marched on the jail and seized McDowell, Moss and Stewart. They were taken further downtown to the Ohio rail yards, where they were shot to death at point blank range.
Miriam DeCosta-Willis, who wrote "The Memphis Diary of Ida B. Wells," helped paint the picture of what went on before and after the lynching. Taking to Facebook later in the evening, she summed it up this way:
"Ida B. Wells, known as 'Pistol-Packing Iola, the Princess of the Press,' was outraged by the 1892 lynching of three grocers in Memphis. She wrote scathing articles in which she accused White men of lynching for economic control of Blacks, and she urged African Americans to move out of Memphis. Then, she launched an international antilynching campaign."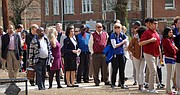 The day's observance included the laying of a wreath on Moss' grave in Zion Christian Cemetery, another historic site in South Memphis. After the commemoration at Second Congregational Church, there was a march to the marker that notes where People's Grocery stood. That's where the Rev. Reginald Porter, the church's pastor, appealed to God to "save us from the sin of forgetfulness."
The ASALH's Christian provided this 360-degree view:
"(W)e need to understand our history, and that may help us better understand what is happening today and perhaps help us respond differently than how the response has been in the past."