'Speed Repping' Town Hall gets encore invitations
All it takes is three minutes to talk to city officials....
Tony Jones | 3/9/2017, 11:37 a.m.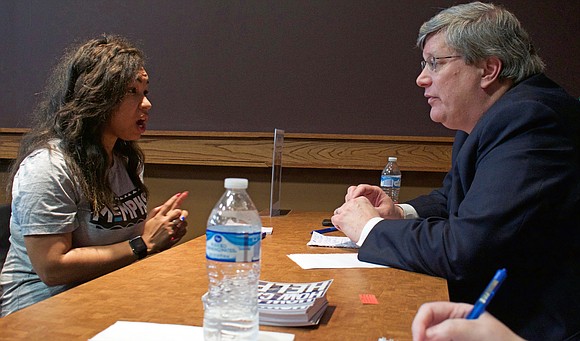 If you seriously believed that Memphis and Shelby County's elected and appointed officials were in need of one-on-one interaction with those they serve, what would you do?
"Speed Repping" was Jamie Griffin's answer.
The branch manager for the Whitehaven and Cossitt libraries, Griffin put together a new style of town hall meeting and designated March 6th the date for citizens to come to the Whitehaven Library and speak directly with several government officials.
On the answering end of three-minute exchanges were Mayor Jim Strickland, Shelby County Mayor Mark H Luttrell Jr., Memphis Police Department Director Michael Rallings, City Council members Patrice Robinson (District ) and Martavius Jones (District), Memphis & Shelby County Public Library Director Keenon McCloy, Memphis Light, Gas & Water CEO Jerry Collins and Memphis Fire Department Director Gina Sweat.
One hundred and twelve people – including students from nearby Robert R. Church Elementary School and a spokesman for the activist group Coalition of Concerned Citizens – set a few feet across from the official of their choice and got what they could out of the interactions.
"Obviously some people would have liked to speak a little longer with their representatives, but to accommodate as many people as possible it is tough to give them more than 3 to 5 minutes at a time," Griffin said.
Strickland, whose sessions included an intense encounter with Theryn C. Bond with the Coalition of Concerned Citizens, said "Speed-repping" was great.
"People talked about the real core issues they're concerned with – cleaning up blight, paving the streets, making their neighborhoods safer. That's been my experience my first year as mayor."
Bond walked away thinking pretty much the same thing she did when she sat down – that Strickland is out of touch.
"I wanted to know about his priorities in city funding," Bond said. "He can't deal with things that matter most to the City of Memphis. … He finds money for everything that he wants to find money for but he doesn't seem to find money for things that people bring to his table that he does not agree with."
Jim Oliver spoke with Strickland and Library Director McCloy.
"I talked to them about extending a trade school to every library in the city," Oliver said. (Even though it's a short time, it ("Speed Repping" gives people a chance to express their thoughts. All people want to do is express what they feel in their hearts. That's what they want to do."
Calvin Fant, who came loaded with a sheaf of records concerning a property dispute issue swallowed in bureaucracy, spoke with County Mayor Luttrell and emerged pleased with the response.
"They jumped on top of it," Fant told The New Tri-State Defender the next day.
"I got a call that evening, and was called this morning by the county attorney. I was really impressed because I thought they were snowballing, but they got right on top of it."
Luttrell said, "Anytime you can cut through the bureaucracy and talk to people one on one you can get a lot accomplished. It gives you a feel for the community."
Ernest Gilliam, a 5th grader at Robert R. Church School, was among the young citizens who took advantage of "Speed Repping." He spoke with Luttrell, who said of Gilliam, "He's bright."
Gilliam, 10, and his classmates had been prepped by their teacher, LaCheryl Steele, as a class assignment.
"I asked him what he was doing to promote the schools, tutoring programs, after school programs," Gilliam said. "The last question (was) what he was doing about the high schools. He told me about Whitehaven High School and all the scholarships they're getting, the grades they're getting and the level they're on."
Griffin is hopeful that there will be a repeat performance of "Speed-Repping."
"One on one interaction is a thing that doesn't happen often, and the representatives don't get the chance to see people," he said.
"I know they talk to crowds of people, send out press releases and things of that nature, but one-on-one interaction is a thing that (often) just doesn't happen. So I thought it was the best case scenario for both parties."