Priscilla Presley says rumor about Elvis and blacks just not true
'God strike me down, (Elvis) was not prejudiced in any way. He embraced the black community.'
Joy Doss, Special to TSDMemphis.com | 3/9/2017, 11:46 a.m. | Updated on 3/9/2017, 4:44 p.m.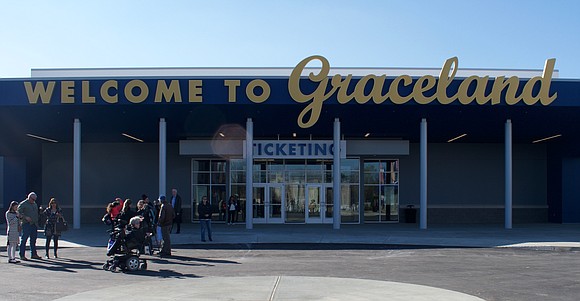 The grand opening of the Graceland Entertainment Complex last Thursday opened the door for me to set foot in Graceland for the first time since I worked there 20-plus years ago. This was full circle. Yep, I spent two summers in the gift shop.
I had initially planned to regale readers with impact statements and such. However, as soon as I sat down with Priscilla Presley, the former wife of the late entertainment icon Elvis Presley and the grand opening's star attraction, she dropped this micro-bomb (unprompted):
"Elvis loved Memphis but the black community was very, very important to him. His music came from gospel. When he was in Tupelo, he used to listen to the music on the porches. It penetrated so much. It was a big part of his life. He was a big fan and lover of the black community, truly," she said.
"At one time, there was a rumor that he didn't like blacks. I have to say right here and now that this was an absolute false rumor. He was a loving soul and I mean that from the bottom of my heart. It really hurt him. God strike me down, he was not prejudiced in any way. He embraced the black community. He loved black music. He loved dressing and looking and being and having that soul because that's who he related it to."
(Note: Elvis grew up among black folks in Tupelo. He used to roll with Ike Turner and the like.)
She continued: "There were other rumors too. Here was this guy moving his legs, feeling the music and singing the songs, which he got from gospel. And to get criticized for feeling the music, he couldn't understand it. And it hurt his mother badly. She would hide the papers…because he was very sensitive."
(Additional note: The more traditional white folk were no fans of his. I remember my mom telling me that they wouldn't let him move into Chickasaw Gardens because he was PWT by their standards.)
"I want to clear that up right away. It's an opportunity for me too, to clarify all of that right here and now. He was the real deal," she said wistfully.
This rocked me a little bit! Presley was very adamant about setting the record straight. I could feel her authenticity. Not at all like she drank the Elvis Kool-Aid. Not a trace of Darth Becky. I have to respect her for standing by her man in life and in death.
It's true that many of us in the black community grew up believing Elvis was an appropriator and a racist. Even Public Enemy commented on it in their lyrics, "Fight the Power," which became gospel truth for many in my generation.
But then, on the contrary, there's the word of some beloved Memphians.
James Alexander of the Bar-Kays fame shared this Elvis anecdote:
"He was probably one of the most mannerable people…(toward people) black or white. We did a show for him one time, (performing as) Sir Isaac and the Do-dads. I never detected that Elvis was a racist in any shape, form or fashion. On top of the band fee, he liked them so much he gave them each a $100 bill…in the late 60s. That was A LOT, especially to 16-year old James. Elvis was a generous man by all accounts."