Going 'Underground' with Aisha Hinds
Actress brings Harriet Tubman to life in slave drama.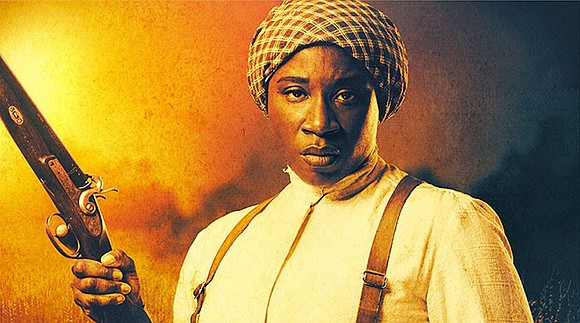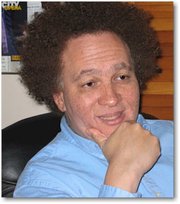 Aisha Hinds is a Brooklyn, NY native who initially entered showbiz in modern dance. She parlayed success in that field into an acting career which has spanned a vast array of projects ranging from feature films like Star Trek: Into Darkness, If I Stay and Beyond the Lights to such hit TV shows as True Blood, Prison Break, Under the Dome and Weeds.
Here, Aisha talks about playing American icon Harriet Tubman on Underground, a docudrama about the Underground Railroad. The second season of Underground is set to premiere on the WGN network on March 8th. Aisha also reflects upon her role as Pastor Janae James on Shots Fired, a timely TV series debuting on the Fox network on March 22nd.
Kam Williams: Hi Aisha, thanks for the interview.
Aisha Hinds: My pleasure, Kam. I deeply appreciate this opportunity. So, thank YOU!
KW: I told my readers I'd be interviewing you, so I'll be mixing their questions in with mine.
AH: Sounds great! Delighted to talk with the readers as well as yourself.
KW: What interested you in Underground?
AH: I became an instant fan of the show seconds into the opening frames of the pilot. When that drone shot carried us through the main house with Rosalie, played so unflinchingly-brilliantly by Jurnee Smollett Bell, I signed on for the ride. I saw that this show was about to elucidate this age-old narrative in a way that was both edgy and engaging. The artistry on the show is apparent in each episode. From the riveting writing to the purposeful and precise direction, the masterful work of the DP [Director of Photography] Kevin McKnight and his crew, and the layers and depths each actor goes to to ensure we the audience feel a human connection to these characters led me to sign my name on the dotted line. The cherry on top was the pulsating and powerful use of music to punctuate the story.
KW: Editor/Legist Patricia Turnier would like to know what Harriet Tubman means to you and how you prepared to play her.
AH: She is a legend, an icon, a soldier on the side of justice, a spiritual warrior, and a servant of God, as well as the one of the baddest women to literally ever walk the land. I surrendered to her spirit. She lived such a full, complex, and irrefutably-dynamic life that all the craft in the world would be insufficient in honoring her legacy. I did my homework, of course, by inhaling as much literature as was available to find, so that when it was time to shoot I could hopefully exhale her. However, the real truth is that her spirit is so POWERFUL that it consumes you. I was literally reduced to basic breath and blinks while she inhabited my vessel and told her story through me.
KW: Since Patricia is from Canada, she would like to know whether any episodes will be shot on location there and if the series will explore the historical connections between the Underground Railroad and Canada?