'God gave us SCLC as a vehicle to freedom'
Lee Eric Smith, lesmith@tsdmemphis.com | 6/29/2017, 12:07 p.m.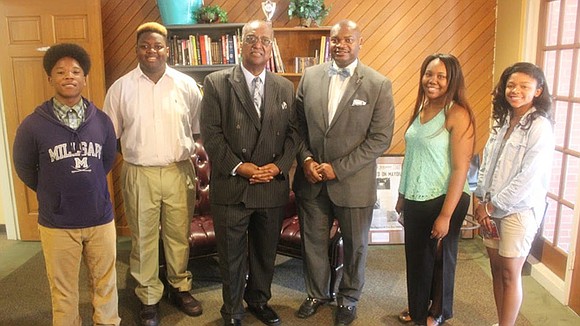 Fifty years ago, the Southern Christian Leadership Conference was at the forefront of the Civil Rights Movement, a champion for the poor and disenfranchised — much like its first president, the Rev. Dr. Martin Luther King Jr.
But just 15 years ago, SCLC was essentially on life support, struggling to keep the bills paid and the lights on, let alone enact meaningful initiatives.
And now? Well, from July 20-23, a resurgent SCLC will arrive in Memphis for its 59th national convention, hosted by SCLC Memphis at The Peabody Hotel. The theme: "The Hour Is Now To Believe, Empower, Act." And in his second term as President/CEO, Dr. Charles Steele Jr. said the Civil Rights movement has come "full circle" — and that coming to Memphis was a no-brainer.
"Memphis has a special significance right now," Steele said, referring to the upcoming 50th anniversary of King's assassination. "Memphis has a special flavor to it, a lot of good people here. That's why we said that before 2018, we can't go to no other city before we go to Memphis."
SCLC was founded in 1957, with Dr. King serving as its first president until his death in 1968. During the height of the Civil Rights Movement, SCLC was at the heart of the movement, including helping to orchestrate the 1963 March on Washington. Later, the organization's leadership would be a veritable "who's who" of civil rights leaders: Ralph Abernathy, Joseph Lowery and Martin Luther King III.
But once the major battles of the 50s and 60s had been won, SCLC struggled to remain relevant and viable, Steele said.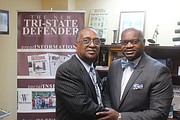 "We were so successful and accomplished so much that the vision was not there within the leadership. We didn't know what the next step was to conquer," Steele said in an exclusive interview with The New Tri-State Defender. "Dr. King even reflected that he didn't include economic development in the plan. We were so concerned with integration, we didn't understand the importance of sustaining ourselves economically."
The organization also suffered from complacency in mobilizing and activating young people over the years, Steele said.
"As the person sitting in Dr. King's position (as SCLC president), I take responsibility for that," Steele said. ""We — SCLC and other organizations — we failed, by not doing a greater job of continuously recruiting young people over our 60 years. You can't rest on your laurels and not continue to train and teach success when it comes to the civil rights community. We didn't do our job like we should have. I could have done better. Others could have done better."
But does that make SCLC obsolete? Steele scoffs at the idea.
"Saying that the need for SCLC is over, we don't need SCLC anymore is like saying that 2,000 years ago, Jesus was here and now we don't need him anymore," Steele said. "Like God gave us Jesus, God gave us SCLC. It's a vehicle to freedom.
"SCLC doesn't belong to any individual. It doesn't belong to Dr. King or to Charles Steele. SCLC is a gift from God."