Forrest and the horse he rides on must go
Brenda Sanders, Special to The New Tri-State Defender | 6/29/2017, 11:56 a.m.
As I stepped into Bellevue Middle School, I saw a banner that said, "We are Conquerors." Little did I know that would be the overarching theme for the night.
So many came out to support Tami Sawyer's initiative to get rid of what so many have declared as racist statues that encapsulate the pain in which African-Americans have had to endure and that continued to symbolize the racist beliefs that have dehumanized and embarrassed African Americans.
Those statues are of Nathan Bedford Forrest and Jefferson Davis.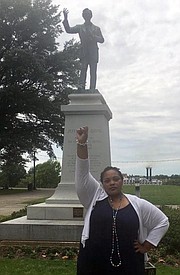 Sawyer spoke to the eager crowd before opening the floor to anyone who wanted to voice their perspective. A line formed. A lot of people wanted to speak their mind about the topic at hand.
Noticeably, many of the speakers were young people, which some observers – myself among them – viewed as hope for a better future built by up-and-coming thought leaders.
At least one of the evening's speakers pointed out that statue saluting the war-crimes-accused Confederate Lt. General (and early Ku Klux Klan member) Nathan Bedford Forrest was less than five minutes away from where the Nobel Peace Prize laureate and Civil Rights Movement icon the Rev. Dr. Martin Luther King Jr. was assassinated.
The juxtaposition was labeled disrespectful and called out for being an affront to King and the many others who believed in, fought for and sometimes died trying to obtain life, liberty and the pursuit of happiness.
The meeting's objectives included devising next steps. Bill Black spoke to the need for a concrete next step to get more young people actively and consistently involved in the fight for equality. He talked about people actually signing up to be engaged in an ongoing way.
Sawyer, who has shown her willingness to speak up whether with a crowd or standing solo, clearly was moved by the turnout and the show of support for ridding the community of the Confederate albatrosses. And as for engaging young people, Sawyer talked about connecting with them and asking what they would want to do.
It's easy to become discouraged with all that is happening in the world today, she said, using that observation as context for saying that it was a beautiful thing to see how many people showed up to show cause.
The Confederate statues represent an oppressive time for African Americans, she said, and don't belong in a city that claims to be so inclusive.
About that time I looked around the room, taking note of an assembly of people representing different races and ethnic backgrounds and united in favor of removing the monuments saluting Nathan Bedford Forrest and Jefferson Davis, president of the Confederate States of America. It was amazing.
The time for change is here. It's time to start facing the issues that divide us instead of running away or just ignoring them.
Taking down those statues won't solve everything. It is, however, a great first step in the right direction. And Tami Sawyer is sounding the cadence.
(Brenda Sanders is a Memphis-based freelance writer and TSD contributor.)