Growth on the menu for HBCU Reunion Weekend
Johnesha Harris, Special To The New Tri-State Defender | 6/17/2017, 11:10 a.m.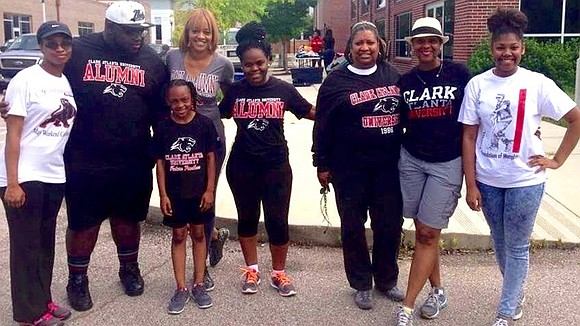 The fifth annual HBCU Reunion Weekend brought together alumni excited to celebrate their alma maters while also allowing the community a chance to ask questions and talk about historically black colleges and universities.
Michael McLaughlin, the event chairperson and a Southern University graduate, helped the HBCU Reunion Weekend sink its roots.
"This was at first something that myself and a few others kept saying we wanted to see happen," McLaughlin said. "There were a lot of graduates who had returned to the city during 2007-09 and we wanted to gather and celebrate something great: graduating from historically black colleges and universities."
The weekend kicked off on the campus of the Memphis' only, HBCU, The LeMoyne Owen College. A panel of alumni and business people answered questions about their educational and social experiences, issues facing HBCUs, the awareness among youth and relevancy of HBCUs and the importance of giving back to an alma mater.
Among the panelists was FOX13's Jeremy Pierre, a graduate of Xavier University in New Orleans.
"I think this reunion event is important to the community because it shows the people LeMoyne Owen College as a part of something bigger than just Soulsville," Pierre said. "The college gave us some great leaders like Dr. (Willie W.) Herenton and Marion Barry (the late former mayor of Washington, D.C., but most wouldn't know that."
The weekend also featured a Mix n Mingle Mixer at Mr. Lew's Blew Note Bar & Grill on Beale Street, the Reds, Whites & Summer Blues event at the Balinese Ballroom, a cookout/block party and a Sunday fun day farewell gathering at Canvas of Memphis.
McLaughlin, a native Memphian and the CEO of Pinnacle Innovative Marketing & Promotions, stressed the need to "educate those who don't know about HBCUs and lend a hand to those who need help getting into one."
"At first our goal was to just do the weekend and bring people together," he said. "Now we want to start giving back and maybe even start up some scholarships for students who will need the help during their college careers. This is about educational awareness."
McLaughlin majored in mass communication, became a part of Kappa Alpha Psi Fraternity, Inc. and was a member of the world famous Southern University "Human Jukebox" marching band.
Regal Media Group, PepsiCo and the LeMoyne-Owen College Community Development Corporation were among the sponsors. According to McLaughlin, organizers start work as early as six months out to make sure that everything runs smoothly.
Pierre pushes for more people to look at the background and status of today's HBCUs.
"This was my first year doing the reunion weekend and I only got the chance to participate in the panel. I think more should come out to these events when they happen. It would help students like those at the University of Memphis or Rhodes College understand the importance of an HBCU or maybe shed some insight on HBCUs that they may not have known about."
The HBCU Reunion Weekend group is now looking to take the annual celebration forward. McLaughlin is hoping that "it can grow to be about as big as the Southern Heritage Classic; this is pivotal to the area. We hope to get more sponsors and fundraise so that we can go the extra mile."
(For more information on HBCU Reunion Weekend, or to join the group, visit their website www.hbcureunionweekend.com.)