Keynoter to address 'irrelevance' at NAACP centennial celebration
Karanja A. Ajanaku, kajanaku@tsdmemphis.com | 6/16/2017, 12:33 p.m.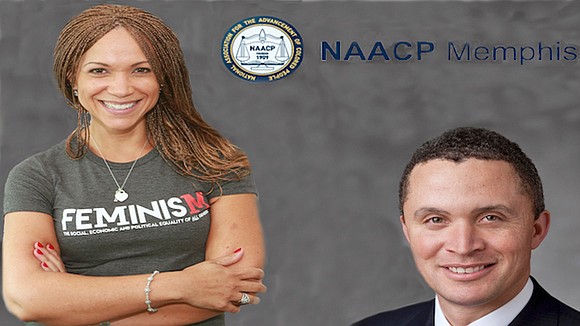 Let's say you're the president of a chapter of the nation's oldest civil rights organization and the local's centennial celebration is on the horizon.
Then you learn that a well-known and respective professor and media personality uses the platform of a high-profile news organization to question the group's relevance. What do you do?
For Deidra Malone, who became president of the Memphis Branch N.A.A.C.P. earlier this year, the option of choice was a telephone call after reading professor Melissa Harris-Perry's opinion peace on The Opinion Pages of The New York Times. The result is that Harris-Perry will be a headline speaker – along with former Ninth District Congressman Harold Ford Jr. – at the Centennial Freedom Fund Luncheon Celebration on June 24.
"I thought it would be good for her to share her perspective with the NAACP Memphis Branch membership and their supporters," said Malone.
Harris-Perry is the Maya Angelo Presidential Chair at Wake Forest University and the executive director of the Pro Humanitate Institute and founding director of the Anna Julia Cooper Center. She hosted the award winning television show "Melissa Harris-Perry" on weekend mornings on MSNBC.
"If it wants to survive, the N.A.A.C.P. has two options," Harris-Perry asserted in an op-ed that followed The N.A.A.C.P.'s recent announcement that it would replace Cornell William Brooks, the group's outgoing president, in a revitalization move. The headline read "How to Save the N.A.A.C.P. From Irrelevance."
"It can move aside gracefully. Legacy civil rights organizations should have emeritus status just like professors. They should be acknowledged for their past work and allowed to make meaningful contributions in the future. But, in the present, they should step to the side. …
"If the N.A.A.C.P. is unprepared for emeritus status, it must be ready for a return to the bloody years," Harris-Perry wrote. "It must become radical and expect a time when people will be mocked and potentially even harmed simply for being aligned with it."
Malone, who took over leadership of the Memphis branch in January, acknowledged at that time that many perceived the group as old and antiquated and questioned its relevance. She alluded to changes that would showcase the group's relevance.
"I agree that some of our practices are dated and that we should retool and be bolder in our advocacy approach today," Malone said in reference to Harris-Perry's op-ed. "That is exactly what our national leadership stated over a month ago and is focused on now. I reached out to Professor Harris-Perry's office at Wake Forest University and she gladly accepted the invitation."
It was a busy day for Malone, who secured former Congressman Ford's attendance a few hours later.
"As someone who was elected to Congress at 26 years old, his perspective on how we should approach the next decade, or 100 years, will be thoughtful and engaging," Malone said. "As someone from Memphis and who represented us in Congress, it's great to have one of our own come home and give the challenge and charge to the next generation of leaders."
Ford lives in New York with his wife and family. He lectures part-time at the University of Michigan's Ford School of Public Policy and is a political analyst for MSNBC and CNBC.

The luncheon is themed "Reflecting on the Past, Remaining Focused on the Future: 100 Years of Civil Rights and Human Rights Advocacy." It's set for 11:30 a.m. at the Memphis Hilton on June 24.
"We have been focused on raising funds to support the local branch's programs and have created a Centennial Celebration that pays tribute to the past, but is focused on our future," said Gale Jones Carson, chairperson for the Centennial Celebration and secretary for the Memphis Branch.
"Our co-chairs – FedEx Chief Diversity Officer Shannon Brown, civil rights activist and mediator Jocelyn D. Wurzburg and CN Railroad executive Roquita Coleman-Williams – are working hard to ensure the success of our event."
The luncheon's major sponsors are FedEx, AutoZone, Durham Bus Services, Methodist Healthcare, Regional One Health, and Baptist Healthcare.
Tickets for the luncheon start at $100 and can be purchased at: http://bit.ly/2rh5vMe.
(For more information, contact the Memphis Branch NAACP at 901-521-1343 or visit www.memphisnaacp.org.)