GritGrindGrizz:
Lee Eric Smith, lesmith@tsdmemphis.com | 6/16/2017, 6 a.m.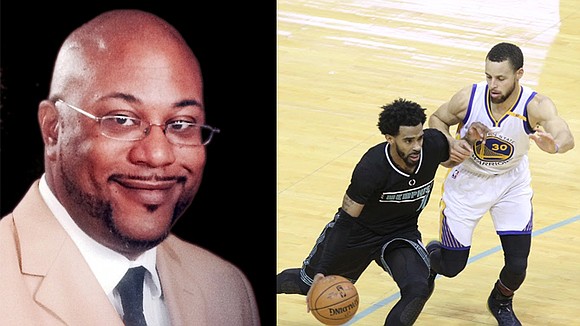 One game.
That's how many games the 2016 NBA Champion Cleveland Cavaliers won in defense of their title. Oh, and it took an record-setting 86 first half points and a triple double from LeBron freakin' James to get that one.
The other four games? They went to the once, current and presumably future champions: The Golden State Warriors. After sealing the series with a 129-120 over the Cavs on Monday, Kevin Durant hoisted the Finals MVP trophy, silencing critics who panned his Golden State migration not even a year ago.
I can't lie: I LOVED watching this series, even as lopsided as the final scores ended up being. Watching the beautiful game of basketball played in such a beautiful way was just too much fun. And even though the series played out the way we sports pundits predicted they would at the start of the season, the ride was still a blast. And now that the ride is over for this season at least, the difficult questions must be asked:
What will it take to defeat the Golden State Warriors four times in a playoff series? And will anything the Memphis Grizzlies do this offseason help them accomplish that?
To put that question in perspective, let me re-emphasize something: A Cleveland Cavliers team — led by incredible performances from LeBron James (31 points, 11 assists, 10 rebounds) and Kyrie Irving (40 points, 7-12 from the arc) — had to score 137 FREAKING POINTS to win ONE game.
ONE game. In their own gym.
Deja Vu all over again
Hard to believe, but it's already been 10 years since Grizzlies GM Chris Wallace surveyed the Western Conference landscape. At the time, the West was dominated by the likes of the Dallas Mavericks (with Dirk Nowitzki), the Phoenix Suns (with Steve Nash), the San Antonio Spurs (who won a championship in 2007 over James' Cavs); and the Los Angeles Lakers (with Kobe, of course).
Having been swept in the first round by three of those teams, Wallace decided to blow up the franchise, shipping then-franchise star Pau Gasol to the Lakers. His reasoning was sound: He didn't see a way that his existing roster could break through to deep playoff contention, let alone a title. After a few horrific seasons and coaching changes, Memphis ended up with a Grit-N-Grind identity and team that's made the postseason for seven straight years.
Fast forward to 2017: The Grizzlies have been booted out of the first round twice by the Spurs — a very formidable team that got swept by Golden State (albeit with Spurs star Kawhi Leonard injured). And despite their success, Wallace must be asking himself if the team's current ceiling is a first-round exit at the hands of the Warriors or Spurs.
Should he blow the Grizzlies roster up and rebuild, looking at a competitive window three or four years away? I don't know. Would it even make a difference? Maybe, if one of the Warriors' stars gets hurt or decides to record a solo album or something. All I know is this: