Election serves as a learning lab for Young Dems
Lee Eric Smith, lesmith@tsdmemphis.com | 6/15/2017, 11:41 a.m.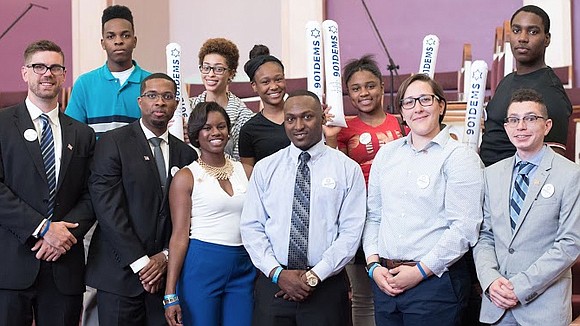 For Danielle Inez, the newly-elected president of the Shelby County Young Democrats, it's nice that the political establishment is starting to recognize and speak to the concerns of "millennial voters." But it's not enough.
She wants a seat at the table.
"Our primary focus over the next two years is going to be where do young people fit into the election process," said Inez, a 29-year-old marketing professional. "We haven't been invited to the table before it's time to vote. We're given options at the end.
"The focus is making sure we engage young people before we ever get candidates on the ballot," Inez continued. "So that we're not being asked to vote among two or more crappy options."
Young Democrats elected officers last weekend, with two competing slates of candidates: #901Dems, led by Inez; and ReThink MEMPHIS, led by Gavin Mosley. The election occurred during the group's biannual conference, held at Pilgrim Rest Baptist Church on East McLemore.
Mosley said the two groups campaigned on different platforms. ReThink MEMPHIS focused on attracting traditional Democratic voters interested in jobs, economic development and infrastructure. #901Dems focused more on social issues — criminal justice reform, LGBTQ rights and religious freedom.
"ReThink MEMPHIS was speaking more to moderate, middle-of-the-road Democratic issues," Mosley said. "Our platform was more concerned about issues that affect us on a local level."
The #901Dems slate swept the election, but much like last year's Democratic Presidential primaries, it was not without some controversy. Some supporters of ReThink MEMPHIS have expressed that a confusing and disorganized election process contributed to their loss.
"The gaps in the (election) system didn't help us," Mosley said. "Everything that happened was within the rules and procedures. But many areas of the conference didn't have rules and procedures, so things happened that wouldn't have happened under Roberts Rules of Order.
"I don't believe it was stolen," Mosley continued. "Some individuals had a preference, and their actions showed who they wanted in office. But I don't' believe it was stolen. #901Dems won fair and square."
The Rev. Anthony Anderson, whose daughter Jade lost her race for parliamentarian, said that ReThink MEMPHIS initially had the votes to win when the conference started at 10 a.m. But more and more #901Dems supporters streamed into the meeting, and by the time votes were cast at around 12:30 p.m., ReThink MEMPHIS was in the minority.
"(ReThink MEMPHIS) thought voters had to register by 10:30 to be eligible to vote," said Anderson, who described himself as a consultant with the group. "At 11:30, if they'd known they had another hour, then they could have gone and gotten some more people to vote too."
Anderson said he was concerned that the appearance of shady politics might turn off the young voters that Young Democrats seeks to engage – or worse, that millennials might adopt a rough-and-tumble style of politics instead of upending it.
"Yes, we know politics and that it can get muddy, nasty and ugly," Anderson said. "But do I expect it to be muddy, nasty and ugly at the lower levels? I think it should be purer (at this stage). That's why I'm asking the ones who won to acknowledge that the process was not fair."