#ACCESS901
Joy Doss, Special to The New Tri-State Defender | 6/15/2017, 11:39 a.m.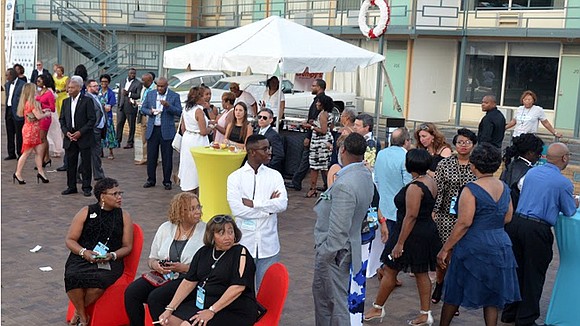 Last Saturday, I attended Night at the Lorraine at the National Civil Rights Museum for the first time, both as a guest and host committee member. I am so glad I allowed event super chair Terrence Reed to not give me a choice in the matter!
It was a wonderful evening full of awesome food from Memphis faves such as Bounty, Belle, Lunchbox Eats and Crumpy's (and several others) in addition to great music on three stages. There was so much fun to be had that I stayed to the very last minute.
I saw old friends and new. I also managed to get B. Doss (my mother) and my Auntie Pearl out too. And – blessed heavenly Father, Yaweh and Jah – it wasn't boiling hot or ridiculously humid. It was quite pleasant out.
In its second year, Night at the Lorraine doesn't focus on the tragedy of Dr. Martin Luther King Jr.'s assassination there or even the civil rights timeline. The spotlight is on the motel's relationship and importance to the black music community.
The Lorraine was a safe space amidst turbulence where Black musicians could lay their heads comfortably without threat of violence. In contrast to the reception at numerous white-owned establishments, they weren't forced to enter through the back way nor were they relegated to inferior rooms.
Great minds met to strategize or write their next hit at the Lorraine. It was no doubt the proverbial rock in a weary land, as anyone who has lived through that time will tell you.
During the VIP reception, we were graced with the presence of Stax legends Al Bell and Betty Crutcher. I do love to be in the presence of historymakers. To be able to reach out and touch living breathing symbols of our history and to hear first-hand accounts of their story is truly something special. As you get older, you appreciate the elders even more. I take these experiences to heart because I hope to create a legacy worthy of mention for my family and for the next generation.
We also had the opportunity to fete the Champion family, who are descendants of entrepreneur Walter Bailey. For those who don't know, Bailey purchased the motel in the 40s and renamed it The Lorraine Motel after his wife Loree and the song "Sweet Lorraine."
Full disclosure: this is where my dummy card was pulled. I knew of Dr. Champion of course, but I had no idea Mrs. Champion was the daughter of Mr. Bailey. So I got schooled a little bit myself. I don't know where I have been because this is actually very common knowledge. Duh!
Tour guides were on hand to walk guests through the space, where you could see the exhibits and also weigh in on the Hitsville (Detroit) vs Soulsville (Memphis) debate. Now, I hope everybody said Soulsville wins, at least out loud. We have to ride hard for our city, right?
Kudos to Jeanette O'Bryant and the museum staff as well as the host committee for their hard work and a job well done! From the custom centerpieces by Valerie Orr to the VIP seating on the hill (great vantage point) to the Sweet Lorraine signature cocktail and cool swag bags, everything came together quite nicely.
I absolutely loved Connect 3, which was the band in the VIP reception. That boy SANG that Sam Cooke then had me sangin' "Alibi" all night. DJ Mary was rockin' the main stage and closed the evening on a high note. I had a whole 'nother hour of energy in me, so I took it to Twilight and piped on down before going home.
I will definitely be back next year to serve on the host committee. Also, Terrence said so, no choices given. So that's that on that! And I will do so gladly, attempted strong-arming aside.
We were at least 600 or 700 strong this year. I hope even more people will join us in the years to come. You missed an absolutely delightful evening, by all accounts, if you weren't there.