How much sleep does your child really need?
BlackDoctor.org | 6/14/2017, 11:40 a.m.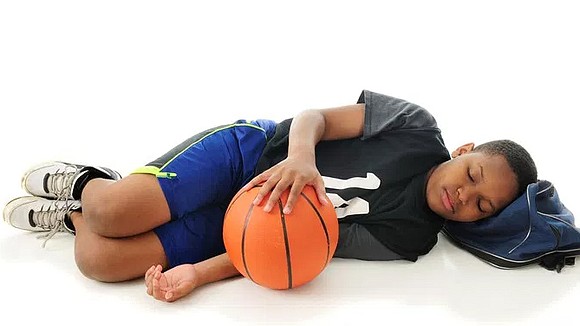 Parents take note. Experts have dropped new recommendations on exactly how much sleep your child needs.
The recommendations, the first from the American Academy of Sleep Medicine (AASM), outline the "amount of sleep needed to promote optimal health" in children (infants to 12-year-olds) and teenagers (13 to 18).
"Sleep is essential for a healthy life, and it is important to promote healthy sleep habits in early childhood," said Dr. Shalini Paruthi, Pediatric Consensus Panel moderator and fellow of the American Academy of Sleep Medicine, in a statement published in the Journal of Clinical Sleep Medicine.
"It is especially important as children reach adolescence to continue to ensure that teens are able to get sufficient sleep."
While that may be true, according to Dr. Nathanial Watson, president of the AASM, "More than a third of the U.S. population is not getting enough sleep, and for children who are in the critical years of early development, sleep is even more crucial."
"Making sure there is ample time for sleep is one of the best ways to promote a healthy lifestyle for a child," Dr. Watson added.
To come up with the guidelines (listed below), a panel of 13 of the nation's foremost sleep experts reviewed 864 scientific articles concerning the relationship between sleep duration and health in children.
Findings from the project, which spanned 10 months, revealed that children who received the recommended amount of sleep experienced "overall better health outcomes including: improved attention, behavior, learning, memory, emotional regulation, quality of life, and mental and physical health."
Additionally, experts discovered that insufficient sleep was associated with an increased risk in self-harm in teens.
"The panel found that sleeping fewer than the recommended hours is associated with attention, behavior and learning problems. Insufficient sleep also increases the risk of accidents, injuries, hypertension, obesity, diabetes and depression. The panel also found that insufficient sleep in teenagers is associated with increased risk of self-harm, suicidal thoughts and suicide attempts," the statement reads.
The AASP Recommendations:
Infants four to 12 months: 12 to 16 hours per 24 hours (including naps)
Children one to two years of age: 11 to 14 hours per 24 hours (including naps)
Children three to five years of age: 10 to 13 hours per 24 hours (including naps)
Children six to 12 years of age: nine to 12 hours per 24 hours
Teenagers 13 to 18 years of age: eight to 10 hours per 24 hours
It's important to note that experts suggest that getting adequate sleep doesn't only involve meeting your mark. "The benefits of healthy sleep require not only adequate sleep duration, but also appropriate timing, daily regularity, good sleep quality and the absence of sleep disorders."
Meanwhile, parents who are concerned that their child is sleeping too little or too much should consult a doctor or a local sleep specialist at an accredited sleep center.
For more information on locating a sleep specialist in your immediate area, you can visit www.sleepeducation.org.