THE WARRIORS NEED GAME 5 FOR HISTORY'S SAKE — CURRENT AND ANCIENT
Mike Wise, The Undefeated | 6/12/2017, 12:36 p.m.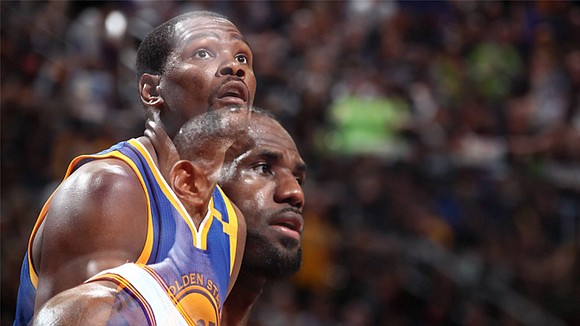 OAKLAND, California — Stanley P. Cox got kicked out of Brian Shaw's local basketball camp one summer because he wanted to write bars and hooks and rap more than 'ball. It turned out to be the right decision. As the East Bay hip-hop impresario Mistah F.A.B., a legendary freestyle battler, Cox has collaborated with Snoop Dogg and Too $hort, among others. Beyond his rap life, he owns the souvenir and apparel store Dope Era at 4506 Market St. in North Oakland, where he knows everyone and everyone knows him. A cousin of NFL running back Marshawn Lynch, Cox is The Town to the core.
Cox, 35, has also been able to afford choice floor seats as a Golden State Warriors season-ticket holder since 2006. He is among their best-known fans.
A Game 5 victory by his team in the NBA Finals on Monday night in the Oracle would be so rare, "it'd be like witnessing the blossoming of Amorphophallus titanum," Cox said of the plant called "the corpse flower."
"It would be amazing and something to tell the world until it's over."
Al Attles is a Warrior to the core. Drafted by the club in 1960 while they were still the Philadelphia Warriors, Attles scored 17 points the night his teammate Wilt Chamberlain scored 100. He played for 11 years and became the second African-American coach to win an NBA title when he guided the Rick Barry-led Warriors past the Washington Bullets in 1975. He is 80 years old, has never worked for anyone else and remains an ambassador 57 years after the franchise drafted him.
"I've always been of the mind that you try to win a championship whenever and wherever you can," Attles said from his home in the Montclair district of Oakland late Sunday night. "But, yes, it would be especially great to see us win it in Oakland. Everybody has been so terrific since we came over to Oakland from San Francisco."
The coach and Mistah F.A.B. have something in common: Neither has witnessed the Warriors win an NBA championship on their home floor. Golden State's most recent championship, in 2015, was won in Game 6 in Cleveland.
There are two reasons that Stephen Curry, Kevin Durant and the Warriors must close out the Cleveland Cavaliers on Monday night in a series they once again lead, 3-1, heading into Game 5 at home.
First, of course, you don't want to give Cavalier LeBron James extra chances. Those who do historically have paid.
The Boston Celtics had a chance to close out the Miami Heat in 2012 at home in the Eastern Conference finals before James had ever won a title. But James lit up the TD Garden like he never had in any postseason game, and the Heat eventually won at home in Game 7. Same goes for 2013, when Kawhi Leonard left the door open by missing two free throws in Game 6 of the Finals in Miami, a game the San Antonio Spurs did everything but win before Ray Allen's baseline 3-pointer for the ages sent that one to overtime, and James took control thereafter. And, yes, these very same Warriors a year ago, who melted down in Games 5, 6 and 7 after being up 3-1.