University of Memphis Tigers football: High expectations, daily steps
Last year's success and lofty predictions notwithstanding, this year's team is being coached to view success as a journey of daily moves.
Terry Davis, Special to The New Tri-State Defender | 7/31/2017, 12:54 p.m.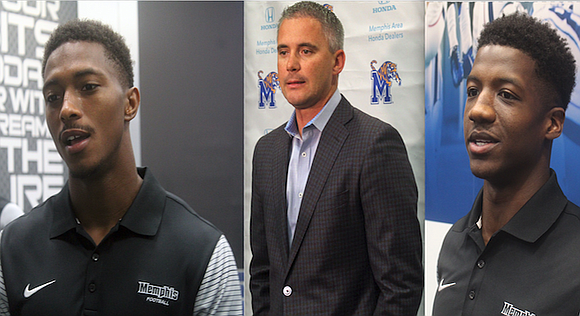 No matter the expectations or the previous year's record, going into any sport's new season the watchword always is F-O-C-U-S.
University of Memphis head football coach Mike Norvell has a firm embrace on that principle. He gave a fresh representation of that recently as the Tigers officially started practice for a 2017-18 season for which they have been selected as the preseason favorite to win West Division of the American Athletic Conference (AAC).
"I did not put a whole lot of thought into what the (AAC) poll would be," Norvell said. "We have talked since January to our team about that the expectations are going to continue to rise."
Adding perspective, Norvell said, "In year one, you have a new coaching staff. You are replacing your first-round quarterback. The success is here to stay. You have to stay focused on things that helped achieve that success."
Some national pundits have projected the Tigers to be in a major bowl that is traditionally the domain of the Power Five conferences. schools. Practice officially started July 28. This season the NCAA has limited teams to one practice per day instead of the customary two-a-days. As a result, many teams began fall camp in late July to get the maximum amount of allowed practices (29) before the start of the season.
Most Tigers fans have zeroed in on the nationally televised game against the UCLA Bruins in week 3.
"We are focused on the first one," Norvell said. "We are not ready for the first game. I challenge my guys to the daily focus to the step that is in front of you. If we get caught looking two, three, four steps ahead, we miss the most important one right in front of us. "
The Tigers have a veteran group that has continued to grow, he said. Notably, quarterback Riley Ferguson is on three preseason watch lists (Maxwell, O'Brien, Unitas) for best quarterback. He is one of seven Tigers to be named to 2017 preseason watch lists.
Other Memphis preseason watch list candidates are: linebacker Genard Avery (Bronko Nagurski, Butkus), offensive lineman Gabe Kuhn (Outland Trophy), center Drew Kyser (Rimington Trophy), wide receiver Anthony Miller (Biletnikoff), running back/kick returner Tony Pollard (Hornung Award) and punter Spencer Smith (Ray Guy Award). Smith also earned a nomination for the American Football Coaches Association (AFCA) Good Works Team.
The Tigers are coming off an 8-5 season and return the core an the explosive offensive team, including the quarterback, most of the offensive line and wide receivers. Ferguson threw for 3,698 and 32 touchdowns while learning the offense.
Ferguson has some talented receivers to play catch with, including former Christian Brothers High School wide receiver Anthony Miller. Miller was one of the most electrifying players in the AAC, racking up 1,434 receiving yards and 14 touchdowns. His impressive haul of catches beyond 40 yards including one for 95 yards.
Phil Mayhue, the senior from Sicklerville, N.J., was also a clutch receiver, with 42 receptions for 677 yards and four touchdowns. Listed as a triple threat, Tony Pollard plays wide receiver and is listed as a running back. He was a USA Today Freshman All-American last season. The sophomore out of Melrose High School scored the Tigers' first kickoff return in 25-plus years. It was one of his two kickoff returns, including one for 100 yards.
Avery and defensive back Jonathan Cook will be looked upon to improve a defensive unit that will feature many newcomers.
"I am enjoying this experience and I want the rest of the guys to enjoy it as well," Cook said. "The sky is the limit for our DB group. We live to make plays."
The Tigers kick off the season on August 31 at 8 p.m. in a national televised game (CBS Sports Network) at the University of Louisiana at Monroe.